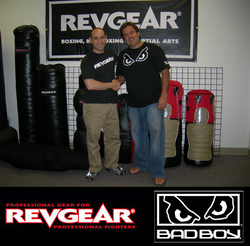 Burbank, CA (PRWEB) July 30, 2008
Bad Boy, a leading MMA lifestyle brand that offers Mixed Martial Arts apparel and fighting gear and equipment, selects Revgear Sports as exclusive manufacturers and distributors of MMA Pro Series equipment and apparel. Revgear will make Bad Boy branded products available to major national on-line retailers, martial arts schools, MMA studios, specialty retailers such as MMA fight and large sporting good stores that carry Mixed Martial Arts Equipment and Apparel.
Bad Boy enjoys a unique fame in the world of Mixed Martial Arts (MMA). In the early nineties, Bad Boy began supporting Brazilian Jiu-Jitsu throughout Brazil and also the new sport of Vale Tudo (No Rules): a contest used by martial artists to resolve the question of what martial art is most effective. When the USA outlawed MMA fights, Bad Boy supported the North American fighters who went to Brazil in search of quenching their thirst for this new sport. Bad Boy also sponsored many Brazilian fighters and tournaments. Then Bad Boy created the most iconic and important piece of MMA equipment to that date: the Bad Boy Vale Tudo Short. As if that weren't enough, Bad Boy took their support of MMA to the next level: they legitimized MMA by creating casual wear for mass consumers. Soon everyone in Brazil, even children, were wearing Bad Boy MMA-themed clothing. In Japan, Bad Boy bolstered their already significant sales through sponsorship of K-1 Fighting legends Bob Sapp and Jerome LeBanner, demonstrating a deep trust in the sport and its fans. LeBanner remains a member of the Bad Boy Team to this day. In South Africa, Bad Boy has been one of the first sponsors of the burgeoning MMA culture in that country. Robin Offner, CEO of Bad Boy Brands, states "15 years of dedication to Mixed Martial Arts has paid off in a loyalty to Bad Boy that is unparalleled in the world of MMA." Bad Boy currently sponsors some of the top fighters with the brightest futures, including Mauricio "Shogun" Rua, Lyoto "The Dragon" Machida, Diego "Nightmare" Sanchez and Rafael "Feijão Cavalcante.
Bad Boy's dedication to the sport of MMA matches that of Revgear to provide the best products to today's fighters. While training for his black belt, Paul Reavlin, CEO of Revgear, grew frustrated with the existing training equipment on the market. Tired of false claims of quality and poorly designed fighting products, he decided that creating a high quality branded fighting and martial arts product line was the only alternative. The result is Revgear - professional gear for professional fighters.
With Revgear Sports signed on as an official licensee, Bad Boy is poised to accomplish in the USA what they already accomplished in Brazil and Japan; together they will take the message to the MMA fighters and MMA fight fans nationwide.
About Bad Boy -
Founded in 1982, Bad Boy is a leading international action sports lifestyle brand with worldwide distribution spanning 6 different continents. Bad Boy is dedicated to supporting the alternative sports athlete and is committed to providing high-quality products that enhance the athlete's training, performance and lifestyle. Bad Boy has a long history of supporting the sport of Mixed Martial Arts (MMA) and the associated lifestyle of the athlete and fan. Through support of MMA athletes and events worldwide, Bad Boy hopes to increase awareness and appreciation for the intelligence, desire and dedication demonstrated by these world-class athletes. With international operations headquartered in San Diego, California, Bad Boy spans the globe through its longstanding relationships with over 50 dedicated licensee manufacturers worldwide.
About Revgear -
Founded in 1996 by Paul Reavlin, Revgear Sports continues to be the leading innovator of mixed martial arts gear. Revgear also provides professional level apparel for Boxing, Kickboxing, Jui Jitsu, Muay Thai and Krav Maga fighters. Their products are sought out by professional fighters, fight schools, and Tournament Organizers worldwide.
Revgear Sports currently manufactures and distributes their own lines of professional MMA gear, Mixed Martial Arts Clothing and Apparel, Krav Maga, Muay Thai, Boxing, Kickboxing, Jiu Jitsu, Martial Arts, Fitness, Taekwondo, Karate and General School and Gym equipment and apparel.
For Bad Boy Sponsorship and Media info contact:
Mad Media
Matt Martelli
(760) 721-3600
John Thomas
Bad Boy Brands
(619) 525-2270
For additional news and updates check out:
badboy.com
For Revgear Sports contact:
Paul Reavlin, President
(818)-847-1100, ext 104
Ben Bass, Sales Manager
(818)-847-1100, ext 111
revgear.com
###