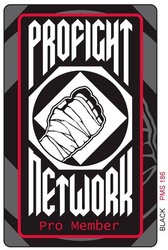 Joy lays in the fight, in the attempt, in the suffering involved, not the victory itself.
Newport Coast, CA (PRWEB) August 6, 2009
Elite Broadcast Media contact Co-founder, Chris Greenman, of ProFightNetwork.com, which has become the fastest growing MMA/boxing site in the world (according to http://www.Alexa.com) told us, "it's simple, we go outside the box and we don't follow, we are a site that provides unique content and behind the scene videos, a crazy and I mean crazy radio show in Fight_Net radio with over 4,000,000 registered users, and we are on a path to have the biggest worldwide gym alliance since 24 Hour Fitness. Why wouldn't we go with a company that corrected my higher college education on definitions, showed us a fighter shirt that did not involve a skull, death, chain link fence, flames, or any other of the 100's of things I have seen come across my table that looks stolen from Affliction." In fact, both Lee Honish and I were on live radio and said "This dude's different." Has mma clothing found something new?
ProFightNetwork first noticed Antagonist at an amateur MMA event in Las Vegas and took interest when learning of the true definition of antagonist, the owner Corey Schutz corrected PFN's owner's definition and quoted, "Joy lays in the fight, in the attempt, in the suffering involved, not the victory itself." -- Mahatma Gandhi.
We interviewed PFN's treasurer, Steve Haase, and he said, "Everyone seems to love TapouT and how they helped MMA get noticed quicker, but everywhere I go I see a TapouT shirt, in fact, when I do see a TapouT shirt, I say to myself, 'Oh he must not really be into MMA, or he must not really be a fighter but rather a fan of the sport.' It's like wearing a NFL shirt that just says NFL, kind of cool but doesn't say a lot: I mean do they work for the NFL? Or even better, someone wears an ESPN shirt, are we to guess they like NASCAR, NBA, Golf, etc. Believe it or not, you don't really see a lot of people that just wear a UFC shirt, it is because Dana White created a promotion that is the NFL of the MMA world. The recent maneuver with Affliction now sponsoring the UFC pretty much tells us Dana doesn't want to do shirts because they all are starting to look the same."
We asked Cory Schutz of Antagonist, why get into the game at this point with so many MMA clothing companies out there and why ProFightNetwork? He said, "As fighters and fans of this sport, we're trying to do something different with the brand of Antagonist, and that's to celebrate the competition, the fight rather than the victory. Profightnetwork.com gets that and they propagate that vision through their mission, and their highly visited online website and vast radio presence. Chris Greenman is a fighter first, and through his work, it's obvious he has an appreciation for what these competitors go through to take that final walk to the cage."
Schutz goes on to say, "These are the sort of partners we're looking for, and fans are now becoming more and more educated to this. They're starting to educate themselves to the sport and are realizing these guys aren't all bar fighters. It's not all about death and destruction, skulls, flames and brass knuckles. Antagonist's goal is to be the brand behind that message. Our goal is for people to see our apparel, our training gear and see that message."
We went to http://www.Antagonistmma.com and it makes one think, and it fits into most of PFN's reported guidelines of uniqueness, credibility, and certified partners qualifications and ethics. Their home page, http://www.Antagonistmma.com, makes the fastest growing sport very honorable and PFN says they love it.
It reads: Antagonist is a celebration of combat sports and the pure metaphor each and every fight represents. We live each day by the creed that individuals are not judged by the outcome but by the battle itself. Life is a struggle and we at Antagonist value not the winners nor trivialize the losers. Rather we honor those who compete, who refuse to stand aside, those who continue to push, to move forward until physically unable to do so. The absolute refusal to be broken mentally, this is why we cheer. Heart cannot be purchased nor taught, bartered nor borrowed. This character is inherent, or simply not. You either fight or you accept your fate. "WE ARE FIGHTERS." Anyone can relate, argue, discuss, associate, or appreciate this.
ProFightNetwork.com is still building its on going product. The staff felt like Antagonist fit into the puzzle that has been strategically organized and systematically launched. (PFN) has been on the rise in web rankings and global interest before even having a respectable social platform as they do now. The owners tell us it is sixty days away from launching its newest version of its website that will highlight many projects in place but bring in some pretty off the wall surprises and technology.
Elite Broadcast Media had been covering MMA through radio, print, and live events for almost 10 years, we took particular interest in Chris Greenman about two years ago when he launched a social website with Former UFC champion Chuck Liddell that involved MMA clothing as well. For various reasons, Greenman gained popularity through his fighting background, YouTube videos, events, mma clothing concepts, and Fight_Net Radio, and even parted ways has been favorable in the big picture. Elite Broadcast Media has been a big fan of the rapid growth of ProFightNetwork and its devotion to the sport. The choice of an established MMA team such as PFN has put together, to go with a relatively new Clothing Company to co-promote, was very surprising considering TapouT was one of their many choices available to them. The owners all agreed on the choice of Antagonist for mma clothing, and are said to announce another rising established company to add to their mix of diverse affiliates in the near future. But don't worry, this proposed mma clothing company, does much more then just mma clothing.
Related articles
http://www.prweb.com/releases/profightnetwork/launch/prweb2608794.htm
http://www.einpresswire.com/article/32051-ufc-legend-chuck-quot-the-iceman-quot-liddell-seems-to-have-conceded-defeat-to-his-former-uso-?category=media
http://www.prweb.com/releases/2009/08/prweb2714504.htm
http://www.socialmediaportal.com/PressReleases/2009/07/Combine-the-Success-of-FaceBook-UFC-and-Costco-and-Mix-the-Creativeness-of-Twitter-and-a-New-Champion-is-Born.aspx
twitter.com/profightnetwork
Contact
Patrick Schneider patrick^elitebraodcastmedia^com
Ph: (858) 457-7674
Cell: (858) 205-8995
# # #