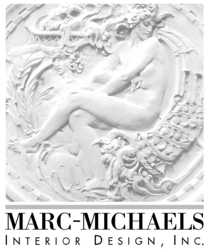 "Creating this world-class environment is a great opportunity for our firm. Our experience in designing private residences for discerning clients along with our commercial expertise makes us a perfect fit for this project." - Mark Tremblay, COO
Winter Park, FL (PRWEB) February 4, 2011
In November of 2010, Marc-Michaels Interior Design, Inc. was invited to design the interiors of Swiss Development Group's latest resort destination, 51°. The mixed-use project will encompass full-ownership residences; condominium real estate; a five-star boutique hotel; recreational facilities including a spa, owners club, wine bar, retail and restaurants. Leukerbad, a quaint resort town of only 1,400 is located in Wallis, Switzerland. It has been known since the Roman times for its thermal waters that pour out at 51° Celsius, or 124° Fahrenheit.
The concept of the project is to celebrate the famous water both inside and out, starting with the project architect, Michael Graves, building the envelope in harmony with the site and surrounding village. The interior design will embrace a water theme throughout the project. Private residences will enjoy their own personal spa features in each suite. A public spa with a well-known operator will be incorporated in the design of the building. The five-star status of this getaway retreat will showcase the most luxurious materials including bronze, wool, leather, and rustic woods.
Mark Tremblay, Chief Operating Officer of Marc-Michaels Interior Design, Inc. describes the firm's involvement, "Creating this world-class environment is a great opportunity for our firm. Our experience in designing private residences for discerning clients along with our commercial expertise makes us a perfect fit for this project."
Swiss Development Group, Michael Graves and Marc-Michaels Interior Design, Inc. are committed to creating a getaway retreat that is ecologically forward, luxurious and comfortable for guests to visit and celebrate water, health and well-being.
Consistently ranked as an industry leader, Marc-Michaels Interior Design, Inc. has been providing highly imaginative interior design and merchandising services for 25 years. An emphasis on interior detailing combined with a "casually elegant" approach to design form a unique offering sought by clients around the world. The firm specializes in translating its signature look to private residences, commercial projects and model-home merchandising. Corporate offices are located in Winter Park, Fla. with local presence in Boca Raton, Naples, Beverly Hills, San Francisco, and our newest location in Shanghai, China. For more information visit http://www.marc-michaels.com.
###