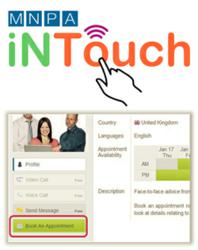 London, UK (PRWEB UK) 28 February 2013
MNPA is wholly owned (through an intermediary holding company, MNOPF Holdings Ltd) by the Merchant Navy Officers Pension Fund, an industry-wide scheme with around £3.3 billion in assets. Starting life in the 1930s as the in-house pension department for the Fund, MNPA has since grown to become an award winning third party administrator with responsibility for administering around 435,000 members in 46 schemes on behalf of prestigious clients around the world.
Under the brand, MNPA inTouch, the company has become the first pensions administrator to offer their customers the ability to make live video calls into advisers. Now, anyone with a PC or Mac with a web cam and microphone can arrange a free, face-to-face online video meeting with a member of the MNPA Adminstration Team at a convenient time of their choosing.
Saypage has enabled MNPA to create a whole new dimension in customer services, providing a degree of transparency not seen before in the financial services industry. Key to the service being rolled out was being able to offer an easy to use platform without users needing to install additional software to their computers. Uniquely, Saypage provides high definition video calling within ordinary web browsers and so was seen as the perfect choice. Especially when combined with their sophisticated appointments system and back-end reporting.
The service is currently being trialed for 9 months, with plans to extend and expand the service beyond that time-frame should it prove popular with customers.
Please go to http://www.saypage.com/press.jsp for press material.
About Saypage: Saypage is a Live Video Meetings Platform that can be accessed on PCs, Macs, smartphones and tablets. Saypage is headquartered in London, England.