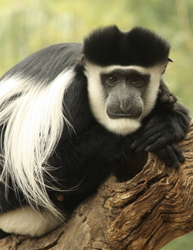 "The close-up encounters with monkeys, red river hogs, hyraxes, crocodiles, bats, and colorful fish will underscore the urgency of protecting these rare creatures and their African rainforest homes." -Ehmke
Apple Valley, MN (PRWEB) May 29, 2010
Elegant colobus monkeys join De Brazza's monkeys, fruit bats, dwarf crocodiles, red river hogs and rock hyraxes in the Minnesota Zoo's newest exhibit, Faces of the African Forest, opening May 29, 2010.
Said Minnesota Zoo Director/CEO Lee Ehmke: "Faces of the African Forest promises to be one of the Zoo's most interesting and popular exhibits. An unusual but ecologically-appropriate combination of animals, together with the complex, beautiful and interactive environment we've created for our animals and guests, will make this new addition to our Tropics Trail a fun and memorable experience. The close-up encounters with monkeys, red river hogs, hyraxes, crocodiles, bats, and colorful fish will underscore the urgency of protecting these rare creatures and their African rainforest homes."
The new exhibit is part of the Minnesota Zoo's indoors Tropics Trail, a lush, lively area focusing on tropical forests around the world. The narrow tropical belt around the center of the Earth hosts more than half of all species in the world. Amid a variety of wet, lush forests, communities of plants and animals rely on each other in tightly-evolved relationships that influence the rest of the world including us here in Minnesota.
Faces of the African Forest: Exhibit Highlights
Bat Cave
Guests can view three species and sizes of bats when they reach the bat cave. The bats will be able to fly throughout the cave, and if they choose, behind the crocodile pool.
Crocodile Beach
A sandy beach will allow dwarf crocodiles to sun themselves while a school of African cichlid fish swim throughout the pool. Guests will be able to enjoy these species up close, separated only by
glass. A glass ceiling allows kids to peer at the dwarf crocodiles and fish while they are swimming in the pool – a very unique perspective.
Fallen Log: Just for Kids
Kids can use stairs going into (and under!) a giant fig tree. When leaving the tree, kids can crawl through a fallen log with viewing windows into the colobus and De Brazza's monkey exhibits, allowing them to see primates, red river hogs, and hyraxes up close.
Fig Trees
Fig trees are an important lifeline for many fruit-eating, forest-dwelling animals in Africa. Worldwide, over 1,200 species of mammals and birds are known to eat figs, of which there are 755 different species. Some species of figs native to Africa can bear hundreds of thousands of fruits at maturity and grow so large that it would take up to ten people, holding hands, to circle the base of a single tree!
Photos
A window on the pathway side of the fallen log allows for photo opportunities of kids peering out – perhaps with a primate on top of the log! If you're an animal shutterbug, there are plenty of great viewing opportunities throughout the exhibit.
The Minnesota Zoo is located in Apple Valley, just minutes south of Mall of America. For more information, call 952.431.9500 or visit mnzoo.org. The Minnesota Zoo is an accredited member of the Association of Zoos and Aquariums (AZA) and an institutional member of the World Association of Zoos and Aquariums (WAZA).
###