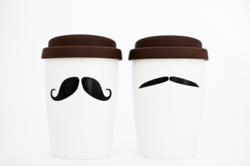 Mo Mug. Less Paper, More MO!
(PRWEB) September 04, 2012
"We know that not everyone can be an environmentalist. Not everyone wants to be. But with Mo Mug, you can stylishly enjoy coffee the way it's intended whilst proudly claiming the bragging rights of "accidental environmentalist"," said Tony founder of Mo Mug.
From construction workers to soccer mums, office workers to students, no part of society has escaped coffee's alluring and delicious grip. With no signs of the trend slowing down, paper cup waste is only speeding up. It's a problem we can't ignore.

20 million trees cut down annually to produce our global demand for paper cups
45 billion litres of water used annually in manufacturing
And that's before considering the poisonous inks used to colour the cups, or the plastic lids. Whatever way you look at this, it's a huge problem.
Mo Mug is a response to this. An answer to the environmental and stylistic catastrophe that is the paper cup. Made from high quality porcelain, Mo Mug is the reusable coffee cup that allows you to make a difference every day.
Yes, there are other reusable coffee cups on the market, but plastic cups that compromise the taste of the coffee simply don't cut it. Especially for the stylish coffee connoisseur. Go to any chic Parisian coffee house and you'll notice one thing: the mugs are made from porcelain. Porcelain helps retain flavour of coffee as pure as the moment it was poured. It also keeps the liquid hotter for longer, so coffee drinkers can take their time enjoying their morning fix.
Furthermore, Mo Mug has also been specially designed with a thin layer of air between the inside and outside walls of the cup. Not only does this insulate your hot drink, it means the coffee drinkers hands will emerge from their coffee drinking trance unscathed.
Use Mo Mug just a couple of days a week and save more than 100 paper cups a year. Doing our bit for the environment isn't always about radical action; sometimes the little things can make just as much difference.
With more stylish, sleek designs coming soon, the Mo Mug is just the start. Be part of the solution and do it in style by getting ahead of the trend by supporting Mo Mug on Kickstarter today: http://www.kickstarter.com/projects/954005590/mo-mug
For interviews with passionate "accidental environmentalist" and Mo enthusiast, call Tony Small
+6421 919 109
tony(at)momug.net
Want your piece of the Mo Mug pie? Head to http://www.kickstarter.com/projects/954005590/mo-mug