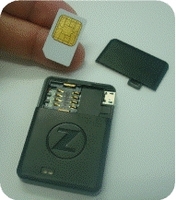 eGrips are silicone non-slip grips with custom printing that delivers both style and function to end user mobile handsets.
Medford, OR (PRWEB) September 1, 2009
Mobifyer a Division of M360, Inc. and leading enabler of contactless, RFID, and Near Field Communication solutions has teamed with best in class suppliers TranZfinity, eGrips, and SCM to jointly launch a series of developers contests to increase the adoption and acceptance of contactless, RFID, and NFC technologies with existing in-market mobile phones.
Submissions to the "Ideas That Mobify" contests will be judged for their innovation, usefulness, usability, and utilization of the contactless, RFID, and NFC solution components assembled by Mobifyer. Submissions are due September 29, 2009 and winners will be announced at the opening of the International CTIA WIRELESS IT & Entertainment show that takes place October 7-9 at the San Diego Convention Center. The winner and runners-up will receive prizes and have their applications featured on the Mobifyer website. For more information, visit the Mobifyer site.
TranZfinity, Inc. of San Diego, CA has develop the Myztro, an NFC to Bluetooth device that enables smart phones to take advantage of the technology for payments, loyalty, and other like kind transactions instantly. "The Myztro has great battery life; some 2,300 plus reads and writes on just 30 minutes charge and with USB connectivity applications can bridge between user's mobiles and PC's" says Steve McRae, CEO of Mobifyer.
SCM Microsystems, Inc. of SANTA ANA, CA and ISMANING, Germany (Nasdaq: SCMM; Prime Standard, SMY), a leading provider of solutions for secure access, secure identity and secure exchange has recently launched the SCR3500 SmartFold, the SCT3511 and the @MAXX lite. These new handheld, USB or Near Field Communication (NFC) connected readers are designed to be carried - on key rings, in pockets or purses - and used every day with contact or contactless smart cards, regardless of technology or manufacturer. In many instances, users insert the card and leave it in the reader - leaving them with a single small device for all smart card-related needs."SCM has shown true innovation in the field and with the strength of their products with global support they have proven they can deliver both quality and quantity" says Mr. McRae
Flexible Innovations, LTD of Ft. Worth TX, the makers of eGrips Technology with RFID recently selected Mobifyer to be the exclusive distributor of their eGrips with contactless and RFID technology outside ASIA. "eGrips are silicone non-slip grips with custom printing that delivers both style and function to end user mobile handsets." adds Mr. McRae
Mobifyer a Division of M360, Inc. of Medford, OR is a leading enabler for developers and systems integrators by supplying the tools, resources, and advice they need to "Mobify" their users. Experts in payments, loyalty, and mobile transactions technology and services whom have sprouted innovations such as StadiumOrder.com head the company.
Mobifyer - Ideas That Mobify
###