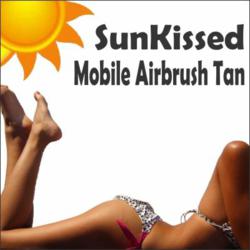 As a skin cancer survivor myself, it's my goal to help my clients maintain a beautiful, sun-kissed complexion without the dangers of baking in the sun
Suffern, NY (PRWEB) April 30, 2012
With the success of its mobile airbrush tan services, SunKissed Mobile Airbrush Tan has decided to expand its reach into Rockland County with the opening of its first location at The Center, at Nu-Skin Laser Solutions. Located directly across from Avon's Global Research Headquarters in Suffern, New York, SunKissed is teaming up with like-minded health and beauty professionals within the center to provide quality, natural-looking tans to those who want to maintain a healthy glow throughout the year – without the harmful effects of the sun or UV-based tanning booths.
"As a skin cancer survivor myself, it's my goal to help my clients maintain a beautiful, sun-kissed complexion without the dangers of baking in the sun," says SunKissed founder Susan Math, who currently provides mobile airbrush tanning services to clients throughout Rockland, Westchester, Bergen County, and New York City. To celebrate the grand opening of her first on-site tanning facility, Math is offering new clients a variety of specials, including buy one tan; get the second tan half off.
SunKissed uses only FDA-approved, organic tanning solutions that even include anti-aging ingredients to keep your skin looking youthful all year round. Developed by a dermatologist, this non-greasy, streak-free solution promises a beautiful, natural tan color while disguising cellulite, stretch marks, blemishes, and other imperfections. Unlike standard spray-tan booths and over-the-counter tanning lotions, customers will not be left with an orange, streaky tint, tacky feeling, or unpleasant odor.
No matter what your skin tone is, SunKissed can customize each tan, based on skin type. With proper care, tans can last from 7 to 10 days. This process is perfect for weddings, proms, special events, girls' nights out, bachelorette parties, dance competitions, body builders, tanning parties, and prior to heading out on a beach vacation. SunKissed Mobile Airbrush Tan is located at 133 Lafayette Avenue, Suffern, NY, within The Center at Nu-Skin Laser Solutions building. For more information, or to book your tanning appointment, call Susan at 845.548.2868.
About SunKissed Mobile Airbrush Tan:
Our products were founded by a dermatologist and skin cancer survivor, providing a physician-approved sunless tanning solution. Our award-winning products satisfy those who prefer the healthy alternative to UV tanning and desire to have a safe, natural, and lasting tan. Certified Airbrush technician Susan Math currently provides mobile airbrush services to clients throughout Rockland County, Westchester County, New York City and Bergen County. Call today to learn more about our services, or to book your tanning appointment.
Media Contact:
Susan Math
http://www.airbrush-mobile-tans.com
Phone: 845-548-2868
Email: susan(at)sunkissedairbrushtan(dot)com