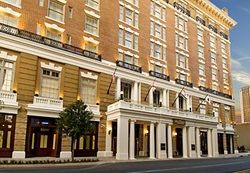 Mobile, AL (PRWEB) October 11, 2009
The Spa at The Battle House, A Renaissance Hotel & Spa in Mobile, AL, is pleased to announce its inclusion in Shape Magazines' 7 Must-Visit Spas. The Spa at the Battle House received this honor because it offers stellar treatments in a state of the art facility according to the magazine. The Spa is known as an urban retreat where guests are pampered for the duration of their stay, offering a unique experience amongst spas in Mobile, Alabama, with lots of comfort, pampering, treatments and features all within the historic Battle House hotel.
The Spa at The Battle House has several signature treatments, including an aromatic warm stone massage, organic facial and urban foot rejuvenation. Guests also enjoy the Hungarian mud wrap, as well as the urban relaxation massage. In addition, The Spa at The Battle House Hotel in Mobile, AL, also has traditional treatments available to guests. The spa offers treatments for as low as $20, and room prices start at $169.
This spa differentiates itself from other spas not only for the treatments offered but for the ambiance as well. When people walk in, they are treated to a relaxing and visually stunning environment. Visitors enjoy views of Mobile Bay, the sights and sounds of water walls and a Zen fire pit. Guests are encouraged to take advantage of the ambiance as well as the spa treatment.
The eight room spa is open from 8 am to 8 pm seven days a week. There are spa packages available for guests, and reservations are required.
For more information or to book your stay at the hotel and spa, visit the Mobile, Alabama, hotel's website at http://www.marriott.com/hotels/travel/mobbr-the-battle-house-a-renaissance-hotel-and-spa/ or call 251-338-5700.
About The Battle House, A Renaissance Hotel & Spa
The Battle House, A Renaissance Hotel & Spa is distinguished as one of the most legendary hotels in Mobile, Alabama. The hotel has enjoyed a rich history and has hosted high society, luminaries and statesmen through the years. Now, the hotel provides people with the best in luxury and relaxation. In addition, the hotel is located near the riverfront and the Arthur R. Outlaw Convention Center.
###