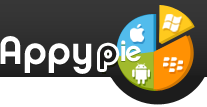 Appy Pie Launches the Version 2.0 of its Award winning Mobile App Builder Software on Haloween.
New York, NY (PRWEB) October 30, 2012
Appy Pie launches the version 2.0 of its award winning mobile app builder software on Halloween and over the last year version 1.0 has become one of the most widely used app maker that now allows everyone to create free mobile apps. Until now individuals and companies had to spend thousands of dollars and months of their time to create a mobile app to market their businesses and interests.
Appy Pie is free mobile app builder software that allows a person/individual to create a highly customized smartphone app with no experience necessary and no coding knowledge, only requirement for creating an app is to sign up for free and input their information.
Now Let Appy Pie Build Apps for you, Appy Pie provides following App Makers:
1. iPhone App Builder
2. Android App Builder
3. Blackberry App Builder
After the person has filled out his details and published his app, the user will receive an HTML5 based hybrid app that works with Android, iPhone, iPad, Windows Phone and Blackberry. In addition, Appy Pie will release the Android app on Google Play & iPhone apps on iTunes for the individual or business.
With each passing day mobile phones are becoming a crucial part of the fast pace life of today's generation, not just in terms of communication, but as a medium to get direct access to internet as well.
The following are the reasons for why AppyPie is the fastest growing Apps Builder service provider in the world:
1. Apps can be built for Free
2. Create an App in Minutes
3. No Coding Skills Required
4. Apps get Published & Shared
About The Company:
ApplePie is trademark of Appy Pie Inc, Appy Pie is the world's #1 cloud based Mobile Apps Builder Software that allows everyone to create free mobile apps. Appy Pie is a Mobile Application Development software that allows anyone with no technical knowledge to create advanced applications for mobiles and smartphones. Nothing to download or install, no programming required, just drag & drop. Appy Pie was born in New York in 2011 & at this point more than 5000 apps are produced each month using the Service.