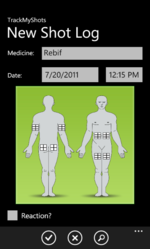 The app has made logging easier and more convenient. No more paper log to carry around.
Cooper City, FL (PRWEB) May 31, 2012
TrackMyShots, an award-winning free mobile app to help ease the log-keeping of patients with Multiple Sclerosis and other conditions requiring frequent injections, is now available at http://www.trackmyshots.com, and on Android smartphones and tablets. The app was developed by Linxter, Inc.
An iPhone/iPad version will be released in June 2012.
TrackMyShots eliminates the need for bulky log books by allowing the user to record each injection, track injection sites and monitor adverse reactions at a site. Users can set up an ongoing schedule for their injections and get email alerts when it is time for their next shot.
Developed by Linxter, Inc., a software development company in Cooper City, Florida, the app was created to help a family friend with Multiple Sclerosis, said company CEO and founder Jason Milgram.
"She had carried around a bulky paper logbook for years," Milgram said. "She and her husband asked if we could help develop an app that would allow her keep track of her injections."
People who suffer from Multiple Sclerosis typically use a paper log book to record the date, time and where on their body they administered the injection. There are 44 viable injection sites on the body, and patients need to rotate injections sites to avoid developing scar tissue that would make a site unusable.
There are about a half million Multiple Sclerosis patients in the United States, and countless infertility patients who can benefit from the app, Milgram said.
Michele Brenner of Sanford, Florida is one of them. Brenner, a longtime friend of Milgram's and a Multiple Sclerosis patient, has been using TrackMyShots since July 2011.
"The app has made logging easier and more convenient," said Brenner. "No more paper log to carry around."
The app's initial release was made on Windows Phone 7 mobile devices in July 2011. TrackMyShots received a Hero of the Week award from Microsoft, which "honors excellence in the field of app development."
About Linxter, Inc.:
Linxter, Inc. provides easy-to-use, affordable, cloud and mobile technology solutions, focused on solving communication and financial transaction challenges. Linxter is a Microsoft BizSpark One alumni company.