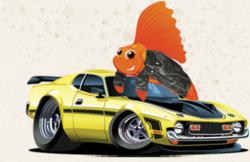 New York, NY (PRWEB) September 29, 2012
RoadFish.com has announced its list for the top financial apps available on smartphones. With numerous consumers trading in their older phones for more capable, more reliable smartphones such as Blackberry, the iPhone, and numerous Android devices, those same users are seeking ways to make their smartphones work for them while on the go; ways to keep up with their finances that are convenient and easy to use. The best way to do this is with industry apps created specifically for that purpose. RoadFish.com's article, Top Financial Apps for Your Smartphone, lists the best apps for keeping up with and managing personal finances.
Financial apps for smartphones, according to the Senior Staff Writer of RoadFish.com, "are now picking up speed and gaining popularity," he says in the article. "I'm talking about apps like Mint.com, Manilla and Debt Minder, which streamline bills, categorize spending, and can even tally your savings to help get you to your goals." With this is mind, RoadFish.com listed their top picks for financial apps for smartphones. The article helps users understand why switching from Excel spreadsheets to a financial app on a smartphone can be beneficial for consumers—especially those consumers who stay mobile and are consistently on-the-go. For many, keeping track of a single document that is attached to a computer can be a cumbersome process. "I have to open up my MacAir, pull up the document, and then hope that I updated it from the last time I looked at it," says the Senior Staff Writer of RoadFish.com in the article. Not only do the apps help to keep track of spending and can be used as part of a check-and-balance system for budgeting and over spending, some financial apps on smartphones come with offers for free credit reports, adding to their value for the end-user.
About RoadFish.com
RoadFish.com lifestyle and finance magazine is an online men's magazine that commonly features articles on travel, lifestyle, and dating advice for men. RoadFish.com readers tend to be guys in their 30's and 40's, most of who have already set and achieved high personal goals for themselves, and are heading steadily towards a new goal. RoadFish.com men's lifestyle and finance magazine features stories on managing money, men's luxury items, vacation ideas, hot chicks, mental health and wellness.