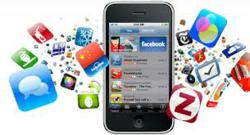 The days of using direct marketing or telemarketing to reach targeted consumers have shifted to mobile application usage.
Simi Valley, California (PRWEB) September 01, 2012
Mobile apps are one way that some companies are using to earn more revenues and communicate directly with consumers. A new report published by iPhone secrets is revealing for the first time how companies are creating apps for little to no cost and selling them for huge profits in stores like the iPhone app store. Technology is growing at a rapid pace and companies that are embracing this technology for business use have been able to increase revenues in the uncertain economic conditions in the U.S. A developer or company that is interested in the new report can download it directly at this link online.
Millions of apps are now available for instant download or purchase in stores like Apple's iTunes. The ease of use of applications and the small purchase price are one way that businesses are increasing revenues. Communication in business is important to future success and some companies are creating applications that allow direct contact with consumers. Both small and large companies are starting to communicate sales promotions, giveaways and other programs to consumers in an effort to raise annual profits. The days of using direct marketing or telemarketing to reach targeted consumers have shifted to mobile application usage.
iPhone applications continue to dominate sales to mobile users. Google's Android app store is growing in size although it has not yet reached Apple's sales numbers. According to telecommunications data, millions of iPhone users are being added annually as sales of monthly data plans have increased. Companies like Sprint and T-Mobile have switched some plans to offer unlimited data usage instead of charging extra fees to use the service. This is one factor that has increased the use of mobile apps among the cherished target business demographic of males between 18 and 35 years of age.
One of the features in the new iPhone secrets report details how a company can virtually eliminate the cost to produce an iPhone application. Some developers charge upwards of $50,000 to design and code a custom application for use with the iPhone operating system. Some companies have hired recent college graduates to handle the programming and technical coding that used to be required to have a flawless application. The data that is revealed in the new report is provided by a former application developer that is giving away many of the secrets that have been locked away by development companies.
The complete and easy to read iPhone Secrets report is available for download and includes a money back guarantee to any business owner or developer that does not successfully produce an application using the information supplied in the new report.
About iPhone Secrets
The iPhone Secrets book was written by an entrepreneur with zero programming skills or previous knowledge of application building. The team behind the new report compiled all of the secrets that were learned from personal interviews and consultations with some of the top iPhone app developers in the U.S. The new report is now helping business owners and developers that want to take advantage of the billion dollar a year app industry by learning to create apps with no experience. The simple and easy tricks that are included in the report are frequently updated in a convenient online members area so that developers always have access to new information.