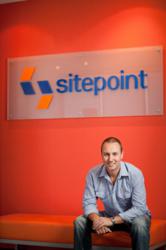 Designing effective mobile interfaces and knowing how to get the most out of every device is imperative if designers are to profit from the trend to mobile internet use
(PRWEB) June 30, 2011
Mobile websites have been described as the most exciting development in computing since the Internet began. With the release of the how-to guide 'Build Mobile Websites and Apps For Smart Devices', specialist publisher, Sitepoint, has satisfied the need for developers to learn how to create mobile websites and mobile apps.
The fact that the market for mobile websites is growing is irrefutable. Hundreds of millions of people around the world now access the internet via smart devices, a trend that is confirmed in recent research results published by mobithinking:

A conservative estimate shows China to have 277 million mobile web users
In the three months to October 2010, 60.7 million people in the US alone owned smart devices, a figure that is forecasted to hit over 120 million by end-2011.
A growing number of mobile web users are mobile-only: Egypt 70%, India 59% - even in the US the figure is 25% - they don't even own a desktop or laptop!
Build Mobile Websites and Apps For Smart Devices
In launching 'Build Mobile Websites and Apps For Smart Devices' Mark Harbottle, SitePoint's Co-Founder said that learning to design for the future was a constant challenge for web developers and designers.
"Designing effective mobile interfaces and knowing how to get the most out of every device is imperative if designers are to profit from the trend to mobile internet use." said Mr Harbottle.
"The mobile apps development business alone is in huge demand as Blackberry and Android try to keep pace with the burgeoning iOS app market - iPhone and iPad app development is, of course, already big business."
Mr Harbottle continued, "Five billion apps were downloaded in 2010 - a massive leap from the 300 million in 2009."
The new guide has drawn upon the expertise of three specialists, Earle Castledine, Myles Eftos and Max Wheeler (see below), who have together covered the different strategies and techniques used in mobile websites and mobile apps development, including:
Design for Mobile
Markup for Mobile
Mobile Web Apps
Using Device Features From Web Apps
Introducing PhoneGap
Making Our Application Native
Three free chapters from 'Build Mobile Websites and Apps For Smart Devices' are available for download now at sitepoint.com
About SitePoint
SitePoint.com is an online magazine and book publisher for professional Web Developers, Freelancers and Web Design Firms. The SitePoint.com Website reaches 2.0 million unique visitors per month.
About Earle Castledine
Sporting a Masters in Information Technology and a lifetime of experience on the Web of Hard Knocks, Earle Castledine (aka Mr. Speaker) holds an interest in everything computery. He is currently contributing towards JavaScript's world domination plans, creating mobile web applications and developing snazzy frameworks in Paris.
About Myles Eftos
Myles Eftos is a Perth-based web developer who feels equally at home building Inner Joins as calculating the specificity of CSS selectors. He has worked in all the major web languages - his weapon of choice being Ruby on Rails—although he's found himself doing more and more front-end development in JavaScript, HTML, and CSS.
About Max Wheeler
An interaction designer, Max Wheeler believes interactive media should function as beautifully as it looks. Residing in Canberra, Australia, Max works with Icelab, a media-agnostic design agency, whose projects include Decaf Sucks and RentMonkey. He's been known to drop in at Web Directions South to speak about building mobile web applications.
For more information on 'Build Mobile Websites and Apps For Smart Devices' visit sitepoint.com
###