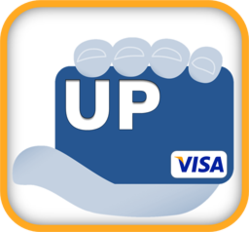 Walking into a bank branch and even logging into a computer no longer are necessary for good banking.
Las Vegas, NE (PRWEB) March 13, 2012
UPside Visa is Plastyc's award-winning prepaid program offering a premium suite of affordable banking services tailored for the up-and-coming youth and under-banked markets.
What's unique about the UPside Visa mobile apps for Android and iPhone are how they meet a complete range of personal banking needs, activating a new account, signing up for direct deposit, redeeming cash back points, paying bills, transferring funds to friends, issuing paper checks and more -- using just a smartphone. Of course, the apps enable the basics, such as checking balances and reviewing transaction histories, as well.
"Over 75 percent of our customers have smartphones. Now, with these apps, our prepaid cardholders truly have the power of a bank account in their phones. Walking into a bank branch and even logging into a computer no longer are necessary for good banking," said Patrice Peyret, CEO of Plastyc.
Plastyc's mobile apps can be downloaded immediately by searching "UPside" in the Android Market at market.android.com. The iPhone version will be available from the Apple AppStore in a few weeks.
In addition to using their UPside card anywhere Visa debit is accepted, the apps let cardholders use their smartphones to do the following:
Manage accounts: Verify cash and cash-back point balances, see latest transactions and prior months' statements, activate a new card or suspend a lost card, configure alerts.
Load funds: redeem a Green Dot MoneyPak®, access the account's direct deposit number and send it to an employer or other payer.
Save: set money aside immediately into the account's Rainy Day Reserve, or define a savings goal and program the account to set money aside automatically to reach that goal.
Pay on-the-go: pay online, send paper checks, reimburse a friend, add airtime minutes to prepaid phones.
Find: the nearest store to buy a MoneyPak or the nearest pharmacy to get discounted prescription drugs.
Get help: send customer service requests, call customer service or find answers to common questions.
Redeem rewards: redeem cash back points, monitor progress toward Premium status (in which all service fees are waived), get discounts on prescription drugs.
The apps include the highest levels of security to protect the account information. For instance, the apps encrypt all local data and do not store or transmit sensitive cardholder data. The apps require an additional password for all spending transactions, and they log out the user out automatically after 5 minutes of inactivity.
For more about the UPside card, visit http://www.upsidecard.com.
The Android app can be found on the Google Play Store.
About Plastyc, Inc.
Plastyc delivers good banking to all by providing 24x7 access to FDIC-insured accounts through any Internet-connected computer or cell phone. Unlike traditional checking accounts, Plastyc's iBankUP portal and UPside cards never incur overdrafts, and they offer better services at lower prices, with more ways to receive money and no risk of over-spending it. Plastyc is privately held with headquarters in New York City.
Press contact: Patrice Peyret, 415-203-2650 patrice.peyret(at)plastyc(dot)com
About Prepaid Expo
Prepaid Expo is the gold standard of prepaid events with over 1,700 attendees and a six-year track record. Independent market research and unbiased conference structure afford the entire stored value payments industry the opportunity to be inspired by provocative keynotes, connect with the leading companies in prepaid and discover the regulatory issues, emerging and mobile payment technologies, distribution challenges, and consumer insights changing business.