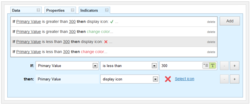 Ottawa, Canada (PRWEB) March 27, 2012
Klipfolio Inc. today announced the release of version 1.3 of Klipfolio Dashboard web and mobile. This release comes less than a month after the release of version 1.2 and is the next step in the evolution of Klipfolio's mobile BI dashboard. Publicly available since September 2011, Klipfolio Dashboard minimizes IT involvement by providing business experts with a self-serve platform that puts them in charge of their KPIs. This release offers users intuitive features to dramatically improve KPI awareness.
The new indicators feature takes self-serve KPI monitoring to the next level, as customers can now use colours and display icons to quickly spot trends and changes in their data. These visuals enhance KPI visibility, as employees will always know which KPIs are performing well, and which KPIs need their attention. This update also adds bullet charts that track a live value (current revenue), and compare it against a historic value (last month's revenue) and a target value (revenue goal).
Available now at app.klipfolio.com, this update adds the following features:

Indicators UI lets users add visual icons and colours to values based on a set of conditions.
Bullet charts, compact and comparative performance gauges, are now available for use in Klips.
2 step authentication broadens the security options when connecting to web accessible resources.
Totals/Results row allows users to easily display the sum, average, min, max, or count of any numeric column.
"Our design philosophy has always been about simplicity and self-service," says Allan Wille, CEO and President of Klipfolio. "The new conditional indicators feature lets users easily set up an exceptions-based view of their KPIs."
About Klipfolio Inc.
Klipfolio develops Klipfolio Dashboard – the KPI Dashboard - to help the Fortune 1000 increase the visibility of key performance indicators for informed decisions that improve performance and profitability. Klipfolio Dashboard is the only enterprise dashboard that presents information where it's always visible and actionable. Clients include Intel, Staples, Aviva, Baxter Healthcare, and Lufthansa.
For more information visit http://www.klipfolio.com, call +1.877.233.6149 US and Canada or+1.613.233.6149 Worldwide, or email sales (at) klipfolio (dot) com.
For media inquiries only, please contact:
Allan Wille
+1 613 233 6149
press (at) klipfolio (dot) com