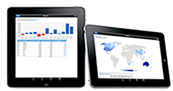 Attendees will be among the very first people to see Yellowfin's new application for the iPad
(PRWEB) November 18, 2011
Register for the seminar here: http://www.yellowfinbi.co.uk/seminar-registration
The seminar, held from 9:30am to 1pm, IBM South Bank, London, will include:

An interactive workshop by Yellowfin CEO, Glen Rabie, to show how Yellowfin delivers self-service BI and better business insights
A hands-on demonstration to illustrate how combining Yellowfin's highly intuitive BI solution with Actian's record-breaking analytical database, Vectorwise, makes BI faster and easier
A hands-on demonstration of how Yellowfin's soon-to-be-released iPad application combines Yellowfin's renowned ease-of-use and collaborative capabilities to redefine Mobile BI
"Attendees will be among the very first people to see Yellowfin's new application for the iPad," said Yellowfin CEO, Glen Rabie. "Yellowfin is making mobile analytics as fun and easy as browsing your favorite online magazine, or sharing ideas with friends across social networks."
Watch the sneak peak video here: http://www.youtube.com/watch#!v=g2o3JIM1qc0
"Registrants will also see for themselves how Yellowfin and Vectowise deliver the world's fastest and easiest-to-use total business analytics package, at a price point that makes world-class BI accessible to everyone," said Rabie.
Seminar participants will:
Discover how to unlock the power of their organization's growing data
See the world's most easy-to-use BI solution and learn how it enables faster, sustainable, widespread user adoption
Find out how Vectorwise's revolutionary software enables super fast ad-hoc reporting that is more affordable, and creates less work for IT
Rabie said the seminar is ideal for organizations that:
Have growing data assets that are slowing down reporting and analytics
Want to dramatically reduce the cost of BI
Want to empower end-users to easily answer ad-hoc questions fast
"Attendees will discover how to unlock the power of their organization's growing data assets and get staggeringly fast answers to critical business questions," said Rabie. "If you think making better, faster decisions with your growing data assets is important, then this Webinar is a must."
Reserve a seat at the exclusive seminar here: http://www.yellowfinbi.co.uk/seminar-registration
About Yellowfin
Yellowfin is a global Business Intelligence (BI) software vendor headquartered and developed in Melbourne, Australia. Yellowfin is a highly intuitive 100 percent Web-based reporting and analytics solution.
About Actian: Incite Action
Actian Corporation (formerly Ingres Corp.) is the first to unveil a cloud development platform for building Action Apps. Action Apps are lightweight consumer-style applications that automate business actions triggered by real-time changes in data. Actian products incite action at more than 10,000 customers worldwide by driving their mission critical workloads and providing rapid action insights to their data. Actian is headquartered in Redwood City, California with offices in New York, London, Paris, Frankfurt, Amsterdam, and Melbourne.
Actian, Cloud Action Platform, Ingres, and Vectorwise are trademarks of
Actian Corporation. All other trademarks, trade names, service marks, and logos referenced herein belong to their respective companies.
For further media information, interviews, images or product demonstration, please contact:

Lachlan James, Communications Manager on +61 03 9090 0454, 0431 835 658 or lachlan(dot)james(at)yellowfin(dot)bi
John Ryan, Marketing Manager, Actian on +03 8530 1722, 0422 463 859 or john(dot)ryan(at)actian(dot)com
###