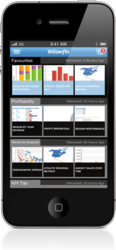 Why shouldn't people find mobile analytics as intuitive and gratifying as StumblingUpon great insight, or Digging their favorite blog?
(PRWEB) April 04, 2012
The application, officially launched Tuesday 3 April, is available for free download from Apple's App Store and compliments Yellowfin's recently released (November 2011) application for the iPad.
Yellowfin for the iPhone integrates Yellowfin's renowned ease-of-use and collaborative capabilities to deliver a Mobile BI application based on the intuitive, interactive and collaborative principles underpinning the world's foremost social media platforms and applications.
Application development inspired by consumer platforms and technologies
Rabie said that Yellowfin's consumer-oriented approach to Mobile BI challenged the industry's perception of mobile analytics, and that the well-documented trend towards user-friendly enterprise products for analytics – the consumerization of BI and enterprise IT at large – proved a major driving force behind Yellowfin's decision to undertake the project.
He also claimed that many enterprise applications and software products lack appeal, and have an enormous amount to learn from their leisure-time equivalents.
"Yellowfin's new iPhone application solves the issue of experiencing Business Intelligence on smartphones," said Rabie. "We've designed this application with consumers, rather than data analysts in mind – we've thought about how people like to use applications for popular social platforms, such as Facebook or Twitter, browse the Web and consume content. Rather than concentrating on building a Business Intelligence application, first and foremost, we've built a fantastic user experience. Why shouldn't people find mobile analytics as intuitive and gratifying as StumblingUpon great insight, or Digging their favorite blog?"
Rabie said that Yellowfin had come a long way since its first iPhone application, which "didn't provide users with a particularly engaging experience", but suggested that many vendors hadn't learnt the same lessons.
"I can't understand why so many BI vendors still seem intent on condemning their users to such an underwhelming experience," said Rabie. "People like sharing ideas and information via Google+ or Pinterest because it's easy, fun and social. So naturally we've combined those same collaborative capabilities and user-oriented navigability to deliver a product that people will genuinely enjoy using."
The new iPhone application reaffirms Yellowfin's position as a preeminent provider of Mobile BI, rounding out an impressive 18 months for the vendor, in which Dresner Advisory Services (DAS) identified it as a leading solution in two separate studies analyzing and comparing the world's foremost Mobile BI providers. Yellowfin was also recognized in Gartner's latest annual Who's Who in Mobile BI report.
Feature and functionality
Yellowfin's new iPhone application includes all the ease-of-use and interactivity now synonymous with the vendor's mobile offerings, and delivers a compelling mobile reporting and analytics experience by embracing the 'gamification' of enterprise IT.
Users can subscribe to and save 'favorite' reports, filter results, drill down and through data and set alerts. The new application also embraces Yellowfin's author once, consumer anywhere approach – any reports created via the browser are immediately ready for mobile distribution. Customers gain the benefits of Mobile BI immediately.
A completely restyled User Interface (UI) offers enhanced navigability and takes advantage of the iPhone's native functionality and multi-touch interface. Users can view all their dashboard tabs and favourites with a single swipe, and a drop-down inbox allows users to control all information delivery, access and dissemination from one central location. The new UI also makes knowledge sharing easier, allowing users to comment on and email reports with a few simple touches.
The ability to cache content to the iPhone enables super-fast report browsing and further embraces the notion of anywhere, anytime reporting. Data caching can be enabled or disabled depending on the security protocols of individual client organizations.
Enriched analytical capabilities include the introduction of series selection and section reports.
Yellowfin for the iPhone delivers on the promise of consumer-oriented BI
Rabie said that Yellowfin was responding to the consumerization of BI and the need for greater Return On Investment (ROI) for BI projects. The consumerization of BI – the introduction of user-friendly functionality and capabilities to support widespread BI adoption – has been noted by many analysts as the answer to improved BI ROI.
"Widespread user adoption – empowering as many relevant decision-makers as possible with reporting and analytics – is the best method for turning the insight generated by BI into action," said Rabie. "That's exactly what Yellowfin's new iPhone app delivers."
Rabie said that the need to design product functionality for data consumers, rather than report writers, was even more paramount in the context of mobile analytics.
"Organizations are beginning to realize the huge potential and benefits of widespread reporting and analytics – more people with access to understandable and actionable data means better decision-making and ROI for BI projects. The continued proliferation of Mobile BI is part of that trend."
Rabie added that the focus on information consumption, rather than development, was further intensified when using smartphones as the delivery platform for Mobile BI.
"No one wants to conduct data analysis on a postage stamp – realistically, the screen size just doesn't support content development. And that's fine – Mobile BI is about empowering people with information; not report creation."
Yellowfin offers customers the ability to receive mobile analytics out-of-the-box on any device or platform at no additional cost, via native applications for the iPhone, iPad and Android platform or Web-browser.
What is Business Intelligence software?
Business Intelligence (BI) refers to a broad range of computer software applications and tools used to report, analyze and present data in a range of formats, to help businesses identify trends and opportunities, and support fundamental decision-making.
About Yellowfin
Yellowfin is a global Business Intelligence (BI) software vendor headquartered and developed in Melbourne, Australia. Yellowfin is a highly intuitive 100 percent Web-based reporting and analytics solution.
For further media information, interviews, images or product demonstration, please contact:
Lachlan James, Communications Manager on +61 03 9090 0454, 0431 835 658 or [email protected]
For regular updates and news, follow Yellowfin on Twitter (@YellowfinBI), LinkedIn (Yellowfin Business Intelligence) or subscribe to our free e-newsletter. http://www.yellowfinbi.com