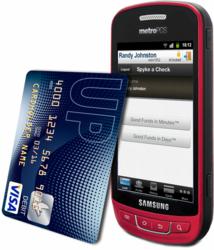 With our new type of mobile direct deposit, customers can pick the speed and fee options that best meets their needs,
New York, NY (PRWEB) February 04, 2013
Known in the industry as Remote Deposit Capture (RDC), the service, powered by Chexar® Network, Inc. and its Spyke network, lets consumers snap a photo of a paper check to deposit it to their Visa prepaid card accounts.
Unlike existing mobile deposit services offered by banks, which typically make customers wait several days for checks to clear before crediting their accounts, Plastyc gives customers a choice. Customers can get the funds crediting right away for a fee: one percent for printed payroll and government checks or four percent for any other type of check including personal checks. Or, they choose delayed access, which loads the funds onto the card for free provided the check has not been returned to the network after five business days.
Also new, is the $2,500 maximum amount of checks, which is significantly higher than other mobile deposit services.
The ability to deposit scanned paper checks provides Plastyc customers with everything they need in an alternative to traditional checking accounts. In addition, the option of accessing funds right away provides a more convenient and cost-effective alternative to using a check-cashing store for people who can't wait.
"Our mission is to provide customers with the newest and most convenient, cost-effective and secure options for managing their finances. With our mobile direct deposit, customers can pick the speed and fee options that best meets their needs," said Patrice Peyret, CEO of Plastyc.
As part of its mobile check deposit rollout, Plastyc is participating in the Consumer Financial Protection Bureau's Project Catalyst, a research initiative designed to encourage consumer-friendly innovation and entrepreneurship in markets for consumer financial products and services.
Plastyc's mobile check deposit capabilities will be available to customers of all cards powered by the Plastyc platform, including Plastyc's UPside and iBankUP services. The rollout is starting with test customers using Plastyc's Android and iOS apps prior to full availability to the entire cardholder base.
About Plastyc
Plastyc delivers good banking to all by providing 24x7 access to FDIC-insured accounts through any Internet-connected computer or mobile device. Unlike traditional checking accounts, Plastyc's iBankUP portal and UPside cards never incur overdrafts, and they offer better services at lower prices, with more ways to receive money and no risk of over-spending it. Plastyc's principals and directors have a track record as financial services innovators at companies including Gemalto, Oberthur, Signio (now part of PayPal, an eBay company), ClairMail, Lending Club, and Genetic Finance. Plastyc is privately held with headquarters in New York City. For more on Plastyc, visit plastyc.com.
Android is a trademark of Google Inc. iOS is a trademark of Apple Inc.