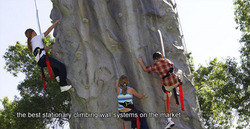 Newcastle, California (PRWEB) October 3, 2007
Mobile Climbing Walls manufacturer, Extreme Engineering, announces a new business opportunity for adventurous entrepreneurs interested in owning and operating Portable Climbing Wall systems. For less than $15,000 (with financing options available) and an unlimited potential return on investment, anyone can own and operate one of Extreme's Portable Climbing Walls to accommodate up to two climbers at one time.
Today, rock climbing is one of the fastest growing extreme sports, enjoyed by millions of climbing enthusiasts all over the world. A popularity due in part to the advent of new technology and the engineering innovations of Extreme Engineering who created the stationary and Mobile Climbing Walls making the sport more accessible to the citied populaces.
Extreme Engineering the lead designer, manufacturer, and distributer of all stationary and Mobile Climbing Wall systems and adventure products worldwide, are renowned for their durable, safe, and reliable products. Extreme Engineering now offers their products to innovative entrepreneurs wishing to bring the extreme adventure of rock climbing to the general public.
Waterproof and wear resistant the Mobile Climbing Walls can be set up in less than ten minutes and are durable enough for daily use. Perfect for fund-raising events, promotional activities, fairs, festivals, campground activities, and picnics, these walls are purported to be so easy to operate, and take so little to maintain that anyone can operate the system safely.
Extreme Engineering Mobile Climbing Walls are the most competitively priced Portable Climbing Walls available today and with four different models to choose from operators can accommodate anywhere from two to five climbers at one time. Lightweight (3200 to 4800 lbs, approximately the same weight as a light ski-boat), well-built, and environmentally-friendly, every Mobile Climbing Wall comes with the patented, fuel efficient, "SpaceSaver" trailer and hydraulic lift for easy mobility.
Each Portable Climbing Wall is designed to provide both beginner and advanced levels of climbing difficultly with climbing hold placements which are easily adjusted for re-routing the wall. The hydraulic system and "climber timer" accessory run on a battery which charges during towing making the Mobile Climbing Walls self-sufficient, energy-efficient, and pollution free.
With each mobile climbing system built with Extreme Engineering's new polymer technology, these Portable Climbing Walls are molded from genuine rock, providing a realistic climbing surface both in look and feel for even the most seasoned rock climbing enthusiasts. The frame is powder coated for endurance. The galvanized auto-belay system, with UV resistant parts, fights the affects of weather erosion; while, the patented auto-belay system, the safest system available on the market today, with its air over oil design requires very little maintenance, providing climbers an extremely safe experience.
Extreme Engineering is globally recognized as the main producer of Mobile Climbing Walls and extreme, adventure products in the world. All Portable Climbing Walls are designed with fun, safety and ease of operation in mind. Now Extreme Engineering Mobile Climbing Walls are available for the entrepreneur with an adventurous and fun-loving spirit.
For more information about Extreme Engineering, Portable Climbing Walls, or other adventure products; or for a closer look at their innovative designs for both stationary and Mobile Climbing Walls visit the official site at http://www.extremeengineering.com or contact Extreme Engineering at 916.663.1560. If you have any questions concerning the engineering, set-up or purchase of Mobile Climbing Walls contact Extreme Engineering directly, or write to Extreme Engineering, 9198-B Ridge Road, Newcastle, CA 95658. You may also submit your queries on their "Contact Us" page.
Contact Information
Extreme Engineering
9198-B Ridge Road
Newcastle, CA 95658
http://www.extremeengineering.com
916-663-1560
###