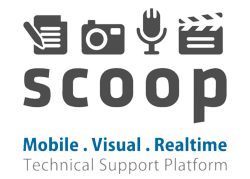 Scoop blows away the time and space barriers between support issues and the people who know how to solve them.
Vancouver, BC (PRWEB) January 17, 2013
Scoop™ a revolutionary new mobile platform aimed at technical issue support and management announced today it had released a new edition of its platform aimed at industrial enterprises.
By taking advantage of mobile and cloud technologies Scoop Enterprise provides a much needed solution for fast, high fidelity communication focused on field and equipment intensive operations. Unlike traditional technical support software that is text-based and involves delays because issues have to be phoned in or typed into a web form from a desktop or laptop computer, Scoop enables personnel, partners and customers to record and describe any issue right on the spot, using multimedia from their mobile phone or tablet then immediately alert the right people to discuss and resolve remotely and in real time, all the while communicating efficiently, in fact showing and telling with the help of integrated digital pictures, voice, video and onscreen markups.
"With Scoop, one of our main goals was to blow away the time and space barriers between support issues and the people that are best equipped to solve them. The patent pending Voice Markup™ technology which allows you to speak and point out important details in a picture is one example of this philosophy. Another focus was to give companies a simple way to centralize, manage and learn from the massive body of field related data, media and day to day communication that today just clogs up inboxes and network folders. Mobile and cloud enabled us to meet these goals while making the platform easy to use and cost effective for a wide range of companies." said Babak Sardary,CEO and Co-founder at Scoop.
Scoop provides businesses with not just a powerful mobile app for support but also a highly configurable backend for managing, organizing and routing issues to the right staff. Enterprises gain powerful analytics that help pinpoint common issues, measure performance and become proactive with technical support. As a brand-able app, Scoop provides an effective new channel to engage customers and market to them in context to fast high quality support.
Companies can learn more about Scoop and request a live demonstration on its many applications in customer support, field service & project management, health and safety, inspection and others through the product website: http://www.scoopapponline.com/