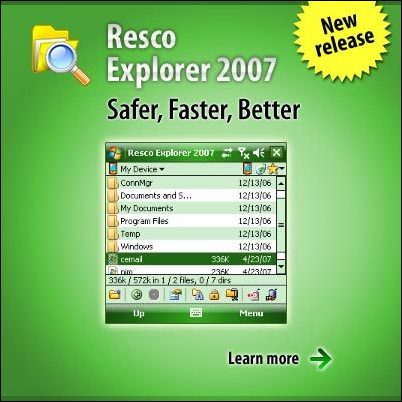 A computer user with the profession as an electrical engineer, who enjoys exercise, sports and trying tons of different programs on the PDA with too many hard resets as a result :-)
Bratislava, Slovakia (PRWEB) April 24, 2007
- Resco, a leading provider of end-user mobile applications, announced today the availability of a new release of the best selling application -- Resco Explorer 2007.
Shortly after introducing the first version of Resco File Explorer, it quickly became the most popular file manager application for Pocket PC devices. Since then we have been constantly improving this application to achieve even greater customer satisfaction. Resco Explorer 2007 makes the best application on the market an even better one.
Besides being an easy and well arranged file manager, Resco Explorer 2005 offered also ZIP compression, built-in viewer, registry editor, file association, network browser, FTP-add in, quick search, sending files via Bluetooth or IRDA, strong file encryption, Today Plugin, recycle bin and many more.
Explorer 2007 continues in the footsteps of Resco Explorer 2005, improving its features and adding many new ones. File Types Highlighting, Status bar, and customizable startup folder makes managing files even easier than before. Users will also appreciate improvements in the area of networking, the ability to view encrypted files with a built-in viewer, running application manager in the Today Plugin and dozens more.
"Resco Explorer wins our Best Software Awards File Manager category year after year after year, and with each upgrade it just gets better."
Hal Goldstein, Executive Editor,
Smartphone & Pocket PC magazine
"Resco Explorer 2007 fulfills all the needs you will ever have when it comes to file managing on the PocketPC. Quicker, slicker, and smoother than the other competitors out there. The first program I always install on a new PDA is Resco Explorer, without that program my hands are tied."
Mikael Johansson
Pricing and Availability
The latest version costs USD 24.95 and can be found at: http://www.resco.net/pocketpc/explorer/default.asp.
Application is provided in English, French, German, Italian, Spanish and Dutch languages.
Who is Mikael Johansson according to his own words:
"A computer user with the profession as an electrical engineer, who enjoys exercise, sports and trying tons of different programs on the PDA with too many hard resets as a result :-)"
About Pocket PC magazine
Pocket PC magazine (http://www.PocketPCmag.com) is a print publication dedicated to users of Windows Mobile PDAs and Smartphone devices.
About Resco s.r.o.
Founded in 1999, Resco, s.r.o. (http://www.resco.net) is the leading developer of a wide range of mobile software products for multiple handheld software platforms. Along with it's the best selling end-user mobile applications, Resco also offers Developer Tools and Enterprise Mobile Solutions. Today the company has more than 100,000 satisfied customers worldwide.

The names of actual companies and products mentioned herein may be the trademarks of their respective owners.
###