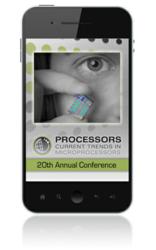 Madison, Wisconsin (PRWEB) November 30, 2012
Omnipress, producer and distributor of online and printed educational content for conferences and events, is excited to announce they will now be offering mobile event apps. The official product launch will be taking place at the ASAE Technology Conference & Expo in Washington, DC December 5-6, 2012. Omnipress will be in booth #611 at the Walter E. Washington Convention Center sharing their new demo app.
"The explosion of mobile device adoption over the last couple of years has moved mobile apps from a 'nice-to-have' option to a requirement for conferences and events," states Sean Lawler, Product Director at Omnipress. "Having a mobile app for your event is especially important for those associations who are trying to court a younger, tech-savvy demographic whose smartphones and tablets are always within reach."
The ASAE Tech Conference & Expo attracts over 1,100 senior-level staff association executives from various industries. "This is a great place to introduce our new mobile event app and extend our ongoing support to the association community," states Steve Manicor, Omnipress' Vice President of Business Development. "We've been serving the association market for over 35 years and welcome the opportunity to bring event apps to this community."
"We've been very surprised by the number of clients who have asked us to support them in their event app needs," Manicor states. "Associations are telling us they are looking for a single source that can assist with the collection and delivery of conference content. Since mobile apps are a growing service by which to deliver content we feel it's important for us to meet that need. For many clients, we already have the content necessary to build a mobile app, so working with us can save time, cost and frustration."
Omnipress is very excited by the opportunity to provide mobile event apps, and they are looking forward to meeting new and existing clients at the ASAE Tech Conference!
# # #
About Omnipress
Omnipress helps organizations collect, produce and deliver educational resources for their members.
Products Include:
--Mobile Event Apps
--Online Abstract/Presentation Collection and Speaker Management Systems
--Digital Publishing Platforms
--On-Demand Print, CD and Flash Drive Production
--Order Fulfillment
--eBook Conversion
Our customers rely on us for our 35+ years of dedicated customer-service, vast knowledge of associations and undisputed dependability.
For more information, visit http://www.omnipress.com.