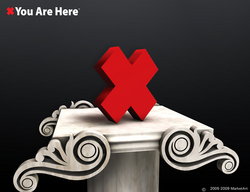 Our clients are determined to add real value and maintain their event's relevance in the face of threatening new-media alternatives.
Washington, DC, Springtime Expo (PRWEB) May 27, 2010
MarketArt® announced here today You Are Here Mobile, an extension of its You Are Here™ platform that now creates a unified view across multiple event-marketing communication functions. It enables event organizers to increase attendance, add exhibitor value, enhance attendee experience and grow tradeshow revenue.
The newest additions to the You Are Here system consolidate and accelerate event marketing, exhibitor promotion and attendee participation at tradeshows and events. You Are Here Mobile provides anytime, anywhere access to the industry's leading map, directory and media platform. One platform, one interface and one, consistent experience ensures enormous usage, added value and efficient management.
Mobile includes ShowStream ™, a new integration of social media tools that organizers, exhibitors and attendees use to integrate their own social networks into the platform. Users can login to their personal event accounts using their own social media networks such as Twitter, facebook or LinkedIn to follow industry, event and exhibitor news and messages during the event.
For event organizers the system is both tactical and strategic. You Are Here immediately solves multiple issues that are serious industry challenges today and creates a clear path to sustainable relevance and growth in the future. It amplifies the marketing activities of their exhibitors' and attendees' own prospects, customer lists and social networks to create a powerful attraction to the event and a sustained community of engaged, satisfied and loyal participants.
You Are Here Mobile is currently supporting the American Wind Energy Association (AWEA) event, Windpower 2010, and can be seen here.
About MarketArt (http://www.MarketArt.com)
MarketArt is a new-media technology company that is the leading supplier of digital maps, directories, media and management systems to the conference and events industry with its You Are Here products.
You Are Here integrates web, mobile and social media with traditional event marketing to provide a next-generation platform establishing strategic new revenue streams. The system consolidates event marketing, exhibitor promotion and attendee participation and is used by attendees, exhibitors and managers of trade shows, exhibitions and events.
You Are Here is deployed on a show's web site, on the show floor itself, and through mobile devices. It is employed to add value to exhibitors and delight attendees by many of the largest tradeshows in the U.S. - and by thousands of exhibitors from around the world. The system can replace traditional printed materials and is especially important to environmentally 'green' shows.
Get insight into industry issues at MarketArt's blog. Follow @X_Youarehere on Twitter.
###