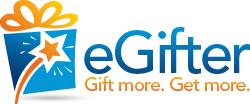 We're pleased to be able to deliver an easy to use platform packed with powerful features, including our continued support for Bitcoin and other cryptocurrencies.
HUNTINGTON, NY (PRWEB) December 10, 2014
eGifter, the social and mobile gifting company, announces today the launch of its new Android application which includes the latest features of its gifting platform, including auto-updating smart coupons and offers, enhanced capabilities for purchasing and managing digital gift cards, and an overall enhanced user experience.
Available in the Google Play Store as a free download, the app aims to make gifting and other features as frictionless as possible for consumers on the go. Users can choose from over 200 retail brands to send the perfect, personalized gift to a friend this holiday season and beyond, for birthdays, graduations, anniversaries, or "just because."
"This updated application is a result of extensive feedback we've received from our users, along with our mission to remain the best gifting app on the market," said Tyler Roye, eGifter co-founder and CEO. "We're pleased to be able to deliver an easy to use platform packed with powerful features, including our continued support for Bitcoin and other cryptocurrencies."
The new app contains several enhanced features designed to simplify key functions and significantly improve the user's experience. The app includes eGifter's Smart Coupons & Special Offers, which constantly update based on the brands of eGift cards and loyalty cards in a user's eGifter wallet. This ensures consumers always have current offers available when they go to use their cards. Access to the offers is unlocked by either by purchasing eGift cards or scanning in plastic gift and loyalty cards.
Other new features include automated gift card balance checking and gift card re-gifting, which allows for re-gifting of eGift cards to friends on social networks or by email.
eGifter continues to offer the most advanced personalization features available in any gifting app. The app has animated eGreeting cards and personalized video messages that work across all devices and operating systems. The system recommends gifts based on social graph activity and enables special offer sharing by age, gender, location and product preference.
The new app also improves on eGifter's category-leading group gifting system. "Users can now log in to Facebook, LinkedIn, Google+ and email simultaneously, inviting friends from across all networks to chip in on a single group gift," said Roye.
In October, eGifter expanded into Europe with gift cards available for consumers in the UK, France and Germany. These users can now take advantage of the eGifter Android app as well.
For more information on the on how eGifter is updating its technology to provide a best-in-class gifting experience, or to see a full list of brands in the eGifter Marketplace, visit http://www.eGifter.com.
About eGifter
eGifter revolutionizes the act of gift giving with a social and mobile gifting platform designed to create a fun experience for consumers, while helping retailers unlock the viral potential of gift giving in social spaces. eGifter is based in New York and was founded in 2011 by a group of proven tech entrepreneurs. To learn more about eGifter and their social and mobile group gifting platform, visit http://www.eGifter.com/Retailers/. Try it out at http://www.eGifter.com, or download the mobile app from iTunes or Google Play.