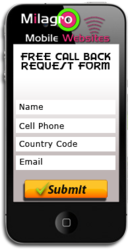 When smart phone users search for a local service or business they want to buy from that business now
Baltimore, Maryland (PRWEB) April 07, 2012
Maya Mendoza, CEO of MilagroFusionMarketing.com announced today a new Mobile Marketing Healthcheck and SMS Text Service for Local Businesses. MilagroMobileMarketing.com is focused on helping local businesses in the Maryland area to take advantage of the growing marketing trend of consumers using their mobiles for local search.
MilagroMobileMarketing.com helps local businesses to take advantage of mobile marketing and SMS text services to connect with their customers for improved relationships and increased revenues.
Through Milagro's unique branding expertise and online-offline traffic generating applications,Maya said "most local business can significantly increase both foot-fall and website traffic if they are willing to follow a proven plan".
Maya Mendoza in her interview stated "When smart phone users search for a local service or business, they want to buy from that business immediately - and statistically, most local purchases are made within 24 hours of a search. To take full advantage of this qualified traffic, it is critical for local businesses to have a well though out mobile marketing strategy and quality mobile ready website, so they can meet 'mobile savvy customers' on their mobile devices and capture their business before their competitors do".
She continued "We know that small business owners are looking for better results and more ROI from their marketing budget. In this challenging economy, local restaurants, retail, and real estate companies need to take every advantage open to them, and this developing Mobile marketplace is an ideal way to make a good impression with their customers on the first visit."
The start of this new mobile and SMS-MMS business health-check service is timely as the use of mobile devices is expected to exceed that of desktops within the next two years. "Unprepared businesses struggling to come to grips with the new technology are bound to lose market share" Maya predicts.
MilagroMobileMarketing.com serves local businesses with the latest in mobile website design, QR codes, SMS/text message marketing, social media marketing, and local search engine optimization (SEO).
According to Maya, "Today's customer is online and mobile, interacting with friends and favourite brands at all hours of the day. MilagroMobileMarketing.com will help local companies understand how to use this changing consumer behaviour to their full advantage."
The first step for any business is to participate in Milagro's exclusive 59 point strategic questionnaire. It is designed to help the business owners review how well their business is doing in making use of digital and mobile marketing now, and what they need to do to get a better ROI from it in the future.
MilagroMobileMarketing.com the sister company to MilagroFusionMarketing.com, a full Digital Marketing Agency. They can be found online, via their mobile optimized sites, and also on the social media outlets of Facebook, Google + Twitter, and YouTube.
Any business wishing to take advantage of a free Milagro Mobile Marketing HealthCheck (Value $399) should contact Maya Mendoza on 443 807 8383, or visit Milagro Mobile Marketing and complete the on-line 'call back' form before the 30th of April 2012