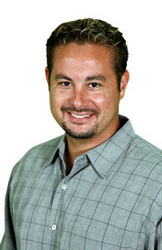 Naples, FL (PRWEB) June 6, 2008
Mobile Marketing Forum audience members will be privy to secrets of success behind two highly acclaimed mobile marketing campaigns. Neighborhood America's David Rippetoe will join expert panel and will share best practices from two Adidas mobile campaigns that led to 1) a twenty-fold increase in revenues and 2) a 69% increase in consumer intent to purchase.
WHO: David Rippetoe, Senior Director at Neighborhood America, will share first-hand knowledge of strategies that lead to successful mobile campaigns during the 'Pitch Panel' at the Mobile Marketing Forum.
Rippetoe will join some of the industry's top experts to discuss how marketers can effectively pitch brands and transform the marketing model by building brand relationships through mobile.
WHAT: The 'Pitch Panel' will be moderated by Gene Keenan, Isobar's VP Mobile Strategies and will include Chris Murphy, Adidas' Director of Digital Marketing. Attendees will learn best practices from the trio - Adidas, Isobar, and Neighborhood America - and will gain insight into how they planned and executed several award-winning mobile campaigns around the NBA. Results from the 2007 NBA All-Star Week campaign include a 20x increase in retail revenues, and from the 2008 NBA 'Basketball is a Brotherhood' campaign, a 69% increase in intent to purchase Adidas products.
The Mobile Marketing Forum, June 10-11, 2008, is produced by the Mobile Marketing Association (MMA) (http://www.mmaglobal.com).
WHERE: New York Marriott Marquis Times Square
New York City, NY
WHEN: June 10, 2008
9:40 a.m. - 10:25 a.m., immediately following keynote from Adidas' Chris Murphy. For more information, click here.
About the Mobile Marketing Association
The Mobile Marketing Association (MMA) is the premier global non-profit trade association established to lead the growth of mobile marketing and its associated technologies. The MMA is an action-oriented organization designed to clear obstacles to market development, establish mobile media guidelines and best practices for sustainable growth, and evangelize the use of the mobile channel. The more than 600 member companies, representing over forty countries around the globe, include all members of the mobile media ecosystem. The Mobile Marketing Association's global headquarters are located in the United States and in 2007 it formed the North America (NA), Europe Middle East & Africa (EMEA), Latin American (LATAM) and Asia Pacific (APAC) branches. For more information, please visit http://www.mmaglobal.com.
About Neighborhood America
Neighborhood America's 'Software as a Service' solution is designed for companies that want to capitalize on the phenomenon of social networks for business gain. Founded in 1999, the company enables its customers to build online and mobile communities to engage consumers, facilitate ongoing dialogue around their brand, and gain continued business intelligence. Customers select Neighborhood America for its award-winning technology and commitment to guide them through the entire process - from strategy, through implementation, to ultimate success. Learn why enterprises including Scripps Networks, FOX News and Adidas are turning to Neighborhood America to gain a competitive advantage by visiting: http://www.neighborhoodamerica.com.
To arrange a meeting with David Rippetoe at the Mobile Marketing Forum:
Contact:
Kristi Grigsby
Neighborhood America
239-591-6811
kgrigsby(at)neighborhoodamerica.com
###