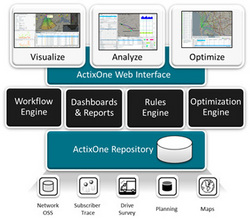 The Mobile Internet is growing faster than anyone expected... More than ever, operators need to get more out of their networks.
(PRWEB) February 8, 2011
Actix, a leader in Mobile Network Analytics and Optimization, announces that the company has achieved strong revenue growth and profitability for its fiscal year 2011, ending January 31, 2011. Actix achieved revenue of £25M, representing double-digit growth over the previous year, while also more than tripling EBITDA based on unaudited results. Actix is privately held with headquarters in the UK.
The company's ActixOne Optimization Platform achieved record revenues as leading operators in Asia Pacific, North and South America, and Europe adopted the platform. ActixOne has now been deployed by 6 of the top 10 mobile network operators worldwide. Sales of ActixOne Network OSS and Subscriber Trace analytics modules more than doubled, driven by operator's desire to use terabytes of multi-vendor network data and near-real time subscriber data to enable faster and better mobile network optimization.
The company's Analyzer software, used by more than 230 operators worldwide, also posted strong results. During the fiscal year, Analyzer continued to dominate the desktop network analytics market segment and was selected by 5 of 7 top operators deploying LTE networks. The top 30 operators worldwide that have announced in-service or in-deployment LTE networks include: AT&T Mobility, NTT DoCoMo, Orange UK, T-Mobile, TeliaSonera, Verizon Wireless and Vodafone (source: 4G Americas).
"The Mobile Internet is growing faster than anyone expected – just look at the latest Cisco Global Mobile Data Traffic results", said Bill McHale, CEO of Actix. "This growth is creating big challenges for mobile network operators. More than ever, operators need to get more out of their networks. The ActixOne Optimizaton Platform and Analyzer desktop software help them optimize their networks faster and better than ever before, from new 4G LTE networks to heavily-loaded 2G and 3G networks. All of this has led to an excellent year for Actix – and we're expecting next year to be even more exciting as data traffic continues to skyrocket."
Actix will be demonstrating the industry's most comprehensive suite of optimization solutions at MWC 2011 from February 14-17th in Barcelona. For further information about Actix, the ActixOne Optimization Platform, Analyzer or to set up a visit at MWC 2011 please visit: http://www.actix.com
About Actix
Actix is a leader in mobile network analytics and optimization, with more than 230 operator customers, including 25 of the top 30 operators worldwide. Founded in 1992, today Actix has major offices in the U.K., U.S., Malaysia, Germany, Japan, Brazil, and China. In 1997, Actix invented the world's first multi-vendor post-processing tool for mobile network analytics, Analyzer, which is the current de facto global standard. In 2007, Actix developed a new category of software for automating mobile network analytics and optimization, the Optimization Platform. As the massive uptake of the mobile internet has led to congestion and performance issues in mobile networks around the world, leading operators in the Americas, Europe and Asia-Pacific are confronting these challenges by deploying the ActixOne Optimization Platform, including 6 of the top 10 operators worldwide. For more information, please see http://www.actix.com.
###