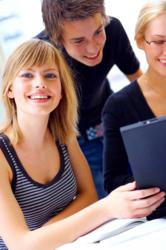 San Francisco, CA (PRWEB) January 10, 2013
The National Financial Educators Council and LearnCast® announce the final development stage of a comprehensive mobile personal finance mobile application. The objective of the mobile financial literacy course is to "provide people convenient access to real world personal finance lessons that can improve their lives," according to the company's website.
Digital learning is quickly becoming the standard as shown by the recent adoption of Apple iPads, Androids and digital tablets in schools and businesses around the globe. LearnCast® provided the Mobile Learning Platform and development team while the NFEC provided the personal finance curriculum.
The mobile personal finance app includes lessons on ten money management topics that range from setting financial goals through basic investment principles. These lessons are delivered through: videos, quick tips, interactive surveys, guides and real time testing.
"LearnCast leads the industry in mobile learning and their platform enables us to deliver high quality content to learners quickly. They provide comprehensive tools that give our educators a way to accurately track, measure and modify the educational material to ensure the end user derives maximum benefits," states Vince Shorb, CEO of the NFEC.
The mobile money management app uses LearnCast's® proprietary Device Detect technology, which supports nearly 6,000 devices, including desktops, laptops, tablets and small format mobile devices. Accordingly, educators and students will receive the financial education coursework regardless of location, time or device. The LearnCast® platform also offers real-time peer-to-peer collaboration and this application fits into the NFEC's expansion into the peer financial education model.
"The NFEC's commitment to providing quality financial literacy is timely on a global level. We believe the mobile money management app will expand the NFEC's reach, rapidly and economically, to an ever-growing audience" noted David Clemons, CEO of LearnCast.com.
LearnCast is a member company of Better Learning Systems, LLC., committed to maximizing the learning experience at both the organizational and individual levels. LearnCast's clients include Fortune 100, International, and Small-to-Medium sized businesses, representing such diverse industries as healthcare, education, technology, manufacturing, consumer goods and municipalities.
The NFEC is a social enterprise organization whose stated mission is to improve financial capability among the world's citizens. Through collaborative efforts with leaders in business, education and finance the NFEC aims to increase access to financial wellness programs. The NFEC move into the mobile personal finance space launches their expansion from a B to B focused company to the consumer market.