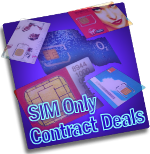 As the popularity of SIM Only deals has rocketed over the past few years, it is important that these pay monthly SIM Only contracts are reviewed independently to actually dig out the best deals.
(PRWEB UK) 4 July 2011
Mobile network operator, O2, has walked away with this year's award for offering the "best all-round SIM only deal", it has just been announced by the leading pay monthly SIM Only comparison site http://www.simonlycontractdeals.co.uk/. For many mobile users, this will beg at least two immediate questions:

What is the best SIM Only award all about?
Why have editors chosen O2 Simplicity?
The SIM Only Award
Just as you'd expect from the title, this award goes to the company currently offering the best SIM only contract deal. It's also self-evident that this type of contract is one in which the mobile network provider supplies you with just the SIM card, rather than bundling it together with a handset or any other hardware. Because of the astonishing range of handsets available these days – and individuals' attachment to the one they've grown most accustomed to – pay monthly SIM only deals allow you not just to keep your existing handset but also ensure that you're paying only for what you actually need to connect to a network; in other words, the SIM card only.
Obviously, this is pretty good news for the customer, since SIM only contracts keep down the cost of connecting to a mobile network (whether you want just telephone connectivity or mobile broadband too). But the growing popularity of these deals and the number of different plans available makes it increasingly difficult for the consumer to choose the best deal for his or her particular needs.
This, of course, is where a site like http://www.simonlycontractdeals.co.uk comes into its own. All the hard work of comparing the almost endless permutations and combinations of different features is done only a daily basis to provide UK consumers more clarity and help save time when search for the best SIM Only tariff to suite their needs. The 'best SIM Only' helps even more by enabling the visitors to choose from just a selection of top SIM Only products.
The comparison website arranges into one simple and easy to understand matrix the multiplicity of different price plans, SIM only tariffs, and associated deals from the all the leading network providers. This lets you see not just who is offering the cheapest pay monthly SIM Only deal in the United Kingdom, but which provider is offering the best, in terms of best value for money.
O2 Simplicity SIM Only was selected 'best of the best'.
This year's award went to the company offering not just the cheapest SIM only mobile network package, therefore, but the one that included the winning combination of best value for money features.
As a major mobile network provider, of course, O2 offers a huge range of services. Its winning package for 2011, however, was the SIM card only contract that goes by the name of O2 Simplicity.
So let's take a brief look at those winning features:
Best value for money for O2's SIM card only is a 12-month contract, which currently works out at just £20.50 a month.
Free delivery and free connection.
900 minutes of calls across landlines and all UK mobile phone networks
Unlimited number of text messages every month.
Choice of data package for mobile web.
User friendly navigation making ease of product selection and purchase veryeasy onb their site.
O2 clearly has clearly found a winning combination in its range of Simplicity SIM only deals and contracts. The company's success in offering the Best All-round SIM only deal in 2011 confirms the status of this network operator in an especially competitive market.
###