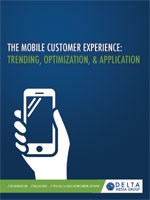 Some brokerages are already seeing over 50% of their web traffic coming from mobile on weekends.
Canton, OH (PRWEB) September 18, 2013
Delta Media Group, Inc., leaders in online real estate technology, recently published statistics in a new White Paper that may come as a surprise to some realtors.
In 2012, there were 121 million smartphone users and 94 million tablet users in the United States, representing a 31% and 180% increase over 2011, respectively (eMarketer, Search Gets a Mobile Makeover, April 2013).
These numbers are having a stunning effect on the Real Estate Industry. Mobile is already known to be the fastest growing digital avenue for Real Estate marketing and lead generation, but recent studies show that mobile web traffic will soon overtake desktop traffic.
In fact, some brokerages are already seeing over 50% of their web traffic coming from mobile on weekends weekend.
This explosive mobile growth trend is why Delta Media Group decided to author this White Paper on the mobile customer experience. In the paper Delta Group publishes statistics and insight gathered from its national customer base of realtors, to help them learn more about the state of the mobile real estate market, and learn how to enhance their customer's mobile experience and brokerage's brand as a result.
As a part of the announcement, DMG's Director of Marketing interviewed CEO Mike Minard on why this White Paper is so important to the Real Estate industry.
Here is a partial excerpt from the interview with Mike:
Q. What's the purpose of this white paper?
R. I started seeing drastic consumer behavior changes in 2010. Those changes in behavior are maturing now and the method in which realtors need to engage these customers is different. I wanted to give a non-technical insight into some of these changes through a short white paper. The main purpose of the white paper is to get anyone in the residential real estate business to take a strong, honest look at what they're doing in the way of mobile marketing with their customers.
The entire interview with Mike Minard and other interesting background information, along with a link to the complimentary download of the White Paper entitled The Mobile Customer Experience: Trending, Optimization, and Application can be can be accessed online on Delta Media Group's website or click here to go to the download page and access the White Paper directly.
About Delta Media Group, Inc
Serving over 600 real estate brokerages, 35,000 agents and 225 MLS's across the nation, Delta Media Group is the enterprise marketing and business management solution for real estate professionals. Delta partners with companies and top-performing agents at the point where marketing meets technology, helping our clients efficiently navigate their business pipeline from lead to close.