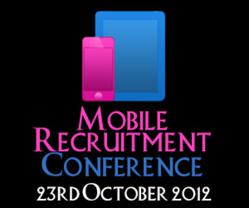 The challenge for Recruiters is to make sure that they are in a position to offer a mobile-friendly experience to job seekers to keep up with the demand
(PRWEB) October 15, 2012
New figures from Google show that job seekers are changing their search habits as 1 in 5 recruitment searches are now carried out on a mobile device. These new figures were revealed by Emma Frazer, Head of Industry for Recruitment at Google when interviewed for the upcoming Mobile Recruitment Conference in London on the 23rd October 2012, organized by Web Based Recruitment .
"Job seekers want to be able to search for a job anytime, anyplace, anywhere and not just via a desktop anymore" said Mike Taylor from Web Based Recruitmen. "The proportion of mobile search figures will only get bigger in the future and the challenge now for Recruiters is to make sure that they are in a position to offer a mobile-friendly experience to job seekers to keep up with the demand" continued Taylor.
Whilst the search figures show a move towards mobile, Taylor feels that the majority of companies aren't anywhere near ready to offer a positive mobile experience to their visitors. "A couple of weeks ago we completed a review which showed that 94% of FTSE 100 companies failed to offer a mobile-enabled careers section to help job seekers easily navigate and search for jobs.
Clearly with 1 in 5 recruitment searches now being made via a mobile device these FTSE 100 companies will risk damaging their brand and reputation, as well as potentially losing candidates to their competitors, unless they quickly do something about it."
With some Recruiters now seeing 30% of their web traffic coming from a mobile device Taylor believes it is no longer acceptable for companies to ignore mobile as a recruitment channel. "There really is no excuse for companies not knowing how many mobile visitors they get to their website as the information is readily available within their website analytics data. Once companies have an understanding of the data, the next step is to plan a mobile recruitment strategy to ensure that visitors can easily search for jobs, as this is what job seekers will be expecting from now on."
About The Mobile Recruitment Conference:
The Mobile Recruitment Conference has been designed to help Recruiters understand the impact that Mobile is currently having in recruitment, how it will develop in the future and how they can start to implement mobile strategies to gain a competitive advantage in their own company.
The conference programme features the latest mobile recruitment trends, strategies, mobile recruitment case studies and "how-to" advice.
About Web Based Recruitment:
Web Based Recruitment specialise in Online Recruitment Marketing with a focus on Mobile and Video in Recruitment. They also run the UK & Europe's largest Social Media in Recruitment and Mobile Recruitment Conferences.
Web Based Recruitment also offer a Free Guide – How To Get Ready for Mobile Recruitment.