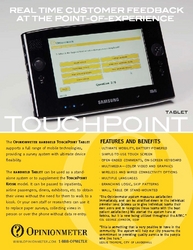 San Leandro, CA (Vocus) June 17, 2010
The widespread use of handheld computing devices has spurred the migration of customer satisfaction survey programs into the hands of the researchers, making them more economical and easier to undertake. While customer satisfaction programs used to be written, programmed and delivered exclusively by large consulting firms, now organizations have the option to take more control and do more of it themselves.
Developing a successful customer satisfaction survey using handheld survey software is as easy as 1-2-3. For example, Opinionmeter (http://www.opinionmeter.com), one of the industry's best-known and most experienced market research technology companies, provides the hosted SurveyManager, a web-based customer satisfaction survey application that allows researchers to design and publish their surveys to a variety of handheld survey tools.
SurveyManager's intuitive interface allows you to harness Opinionmeter's handheld survey software to develop questions, deploy audience-segmented surveys and monitor active customer satisfaction campaigns online in real-time, from any browser. Using pre-written questions from Opinionmeter's extensive resource libraries, you can quickly develop your company's mobile survey tool and download it to one or more handheld survey devices provided by Opinionmeter. Alternatively, you can write your own questions, change them mid-campaign, and add or delete questions with immediate deployment to the next group of respondents. In addition, Opinionmeter offers freestanding survey kiosks and online Web surveys if these devices and methodologies make more sense than a mobile survey device for your target audience and your organization.
Handheld survey software is adaptable and flexible, allowing you to take full advantage of the mobile survey device features on which the survey is deployed. PDAs, including those supported by Windows Mobile and Apple's iTouch, have a color touch screens for easy respondent entry. Mobile tablets, another type of handheld survey device, offer you the option to program multimedia content (images, sound or video) or skip patterns easily for greater comprehension and improved responsiveness. Another delivery method for mobile survey software lets you develop your survey and distribute it to your customers' mobile telephones. The latest mobile survey tool has the added benefit of creating an interactive feedback community complete with personalized messages to all your customers at the same time.
Opinionmeter stakes their reputation on the fact that customers are anxious to provide feedback and connect with the companies with which they do business. Therefore, Opinionmeter has perfected the concept of capturing customer satisfaction feedback at the customer's point-of-experience. Their 40 years of market research experience have proven repeatedly that automating the process of capturing customer feedback at the point of contact results in honest, spontaneous, unfiltered responses.
Discover the power of mobile survey feedback and see the positive impact on your organization today. For more information about Opinionmeter's easy-to-program handheld survey software and their portfolio of handheld survey tools and client services, please visit http://www.opinionmeter.com today.
###