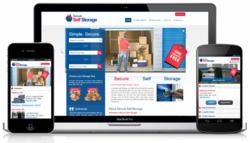 Mobile searches have quadrupled in last year and more and more businesses are getting serious about their mobile strategies.
NEW YORK, NY (PRWEB) May 31, 2013
Secure Self Storage, a leader in the mini storage industry with twelve facilities located on the East Coast in USA and two in Canada near Toronto, announces the launch of their mobile website. NJ-based software development firm, Mantra Information Services helped Secure Self Storage build new mobile friendly website for their multi-location self storage business.
Secure Self Storage, run by industry veteran Steve Schwartz says, "Future of search is on mobile and we weren't happy with our mobile presence. We wanted to redesign our mobile site to give it app-like feel and at the same time make it easier for our customers to contact us. With our extensive efforts on web marketing we are already seeing 40% growth in new business compare to the last year. By investing more in to mobile technology and marketing, we are hoping to serve our customers well and take our business to the next level. Mantra Information Services, our technology and marketing partner on this project, has truly demonstrated their ability in helping us boost our business by modernizing our web and mobile presence. We are glad to have them on our side."
"Secure Self Storage with multiple locations across USA and Canada, have been an interesting project for us. Some of their locations are in dense markets like NYC and others are in more isolated areas like Delaware. People in different areas tend to find self storage differently. Especially in NYC, customers rely heavily on mobile searches. We carved out a strategy for them that effectively applies to all their locations. Their new mobile site will help customers easily find nearby location, view facility features, and contact facility staff. We also keep optimizing their marketing campaigns so that they get their presence felt and get better return on their investment." explains Pam Laughlin, Customer Service Manager at Mantra.
Mobile searches have quadrupled in last year and more and more businesses are getting serious about their mobile strategies. With a custom mobile site or using responsive website designs, businesses are able to effectively reach their customers on devices of all sizes whether desktop, tablets, or mobile phones. Companies like Mantra prove to be a vital partner for businesses with limited technology and marketing abilities.
About Secure Self Storage
Secure Self Storage is a family of self storage facilities located in the Eastern USA and in Canada that pride themselves on providing exceptional storage solutions to their customers at the right price. Their secured locations in Brooklyn, Queens, Bronx, Coney Island, and Ithaca in New York; Millsboro, New Castle, and Rehoboth Beach in Delaware; Milford in Massachusetts, Manor Park in Washington, DC, and near Toronto in Canada make it convenient for customers to find a self storage near their home or office. Secure Self Storage offers competitively priced storage units ranging in sizes from 4'x4' lockers through 10'x30' extra-large rooms. Some locations offer auto and boat storage. Customers enjoy free move in truck, climate controlled units, tight security (24-hour security with video surveillance, computerized gate access, and your own lock and key), a full suite of moving supplies, and moving solutions by a team of trained self storage professionals. More information can be found by visiting a nearby Secure Self Storage facility or on web at http://www.secureselfstorage.net for the storage locations in USA and http://www.secureselfstorage.ca for the storage locations in Canada.
About Mantra Information Services
Mantra Information Services is a full-service software consulting company based in New Jersey, USA. Mantra helps businesses improve performance through custom technology solutions and consulting services. Mantra's core services are iPhone app development, iPad app development, Android app development, ASP.NET development, Java application development, custom website development, and web marketing. More information can be found by inquiring at 908-450-7878 or on web at http://www.mantrais.com/.