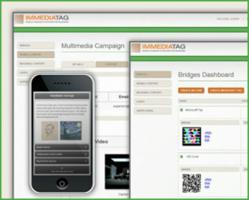 We know our customers are going to be excited by the upcoming improvements because many were inspired by their feedback.
Austin, TX (PRWEB) July 31, 2012
Immediatag, LLC, developer of the Immediatag mobile tagging platform for business, is excited to announce several recent upgrades to the Immediatag platform. These upgrades, many of which were inspired by feedback from Immediatag's customer community and partners, officially kick off the next wave of product development that is expected to run through October 2012.
A FOCUS ON USABILITY
The first series of Immediatag product upgrades focus on usability. These include: a "recent items" list to allow fast access to mobile landing pages, QR codes, Microsoft Tags, and other items customers work with in Immediatag; a completely reimagined data caching system that increases product load time significantly; and improved dashboard statistics that make it easier for customers to determine exactly how many items they have created with Immediatag.
"Immediatag is designed for large-scale use—for customers like publishers, museums, and retailers who may require hundreds of individual mobile landing pages accessed by hundreds of unique QR codes," explains Joseph Pagano, Immediatag CEO. "So even small usability and efficiency improvements deliver large benefits to our customers."
A PREVIEW OF THINGS TO COME
While the recent usability improvements are valuable, they are still only a hint of things to come. Other key items on the product development list include new content objects to make landing pages even more useful without additional programming; a completely rebuilt and reimagined QR code generator; support for new types of bridges, including NFC and alphanumeric code; and much more.
"We are very excited about the improvements in the pipeline—including some that will change the way the market thinks about mobile tagging," Pagano explains. "And we know our customers are going to be excited also because many of these improvements are inspired by their feedback."
ABOUT IMMEDIATAG
Immediatag, LLC is a software developer based in Austin, Texas.
Our first product, the Immediatag mobile tagging platform for business, features a mobile content management system that allows businesses to create high-quality, media-rich mobile landing pages and other types of mobile content—quickly and with no programming required. It also features management tools for creating and organizing bridges (such as QR codes) that connect customers in the real world to engaging, relevant mobile content in the digital world.
For more information about Immediatag, please visit http://immediatag.com.