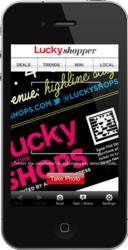 App Automatically Detects 2D Barcodes and Digital Watermarks to Compare Prices and Unlock Exclusive Content
Arlington, MA (PRWEB) November 08, 2011
Lucky, the award-winning magazine about shopping and style, today launches the world's first mobile magazine companion app, Lucky Shopper, for iPhone and Android. The Lucky Shopper app, built by Massachusetts-based mobile engagement company Nellymoser, is the ultimate app for the shopping obsessed.
Lucky Shopper lets readers get more information about thousands of products they find in Lucky Magazine, in other magazines, on signs and in retail stores all over the country. They can compare prices, unlock additional content, access Lucky Breaks exclusive deals and store photos of items they are coveting. Readers can sticker their must-have items, place them into favorites lists, and share with friends via Facebook, Twitter or email.
The Lucky Shopper app is the world's first application that automatically detects and works with QR codes, Microsoft Tags, Digimarc watermarks and UPC codes. If the app does not recognize a code to scan, it automatically launches a camera so that the item can be photographed. For the first time, shoppers will not need to figure out which app to use to save and share products – Lucky Shopper does it all.
Once the code is scanned, Lucky Shopper displays links hidden within the code that readers can use to visit a website with the built-in browser, watch a video, compare prices, enter a sweepstakes or redeem a coupon without leaving the app.
Advertisers can add special features that launch when their products are scanned. Videos and special offers add value to the shopping experience and help guide buyers when making purchase decisions.
Lucky Shopper users can discover everything from new trends to never-before-seen videos and Lucky's favorite stores around the country.
"The Lucky Shopper mobile companion app augments and enhances the reading and shopping experience. Mobile is fundamentally a companion media that makes other media such as print more interactive and measurable," said John Puterbaugh, CEO of Nellymoser.
The Lucky Shopper companion app is available immediately from the Apple App Store and the Android Market.
About Lucky
Lucky, the award-winning magazine about shopping and style, showcases what to wear and how to wear it, making fashion and beauty fun and accessible. Since Lucky's launch in December 2000, circulation has gone from 500,000 to over 1.1 million, proving to be one of the most successful launches in Condé Nast history. For the latest news from Lucky, log on to http://www.luckymag.com.
About Nellymoser
Nellymoser Inc. (http://www.nellymoser.com), a mobile technology company founded in 2000 and headquartered in Arlington, MA, creates instant, interactive consumer "engagements" on mobile phones. These range from contests and product videos to interactive multimedia engagements that can be shared on social media (e.g., Facebook, and Twitter) and include e-commerce for instant product purchases. Nellymoser's customers include leading publishers, advertisers, retailers, and consumer packaged goods companies.
All companies and products listed herein are trademarks or registered trademarks of their respective holders.
###