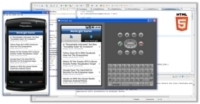 New York, NY (PRWEB) March 3, 2011
WorkLight is hosting a free webinar to discuss the main methodologies used by enterprise mobile developers today – native, web and hybrid application development. WorkLight, a leading provider of mobile application platform technology, will evaluate the benefits and challenges of each approach and help companies determine the best fit for their mobile goals.
As new mobile devices become increasingly popular, companies are under pressure to deliver the ultimate mobile experience with exceptional smartphone and tablet applications. Yet, with competing mobile devices and operating systems, it is becoming increasingly difficult to select the right app development methodology and balance user experience with multi-device reach.
Join WorkLight's Ron Perry, CTO, and Jonathan Kempel, Head of Product Marketing, to learn about the following topics:

Native, Web, and Hybrid App Facts and Myths
Differences in User Experience, Device Support and More
Real-life Examples of Mobile Application Types
Comparison of App Store Presence and Restrictions
Cost/Benefit Assessment of Development Methodologies
Spotlight on HTML5 as Mobile Cross-Platform Technology
Register now for this WorkLight webinar.
Webinar: Native, Web or Hybrid Mobile App Development? Choosing the Right Approach
Date: Tuesday, March 8, 2011
Time: 11:30 AM EDT | 8:30 AM PDT
Who should attend: Senior technology executives and architects, mobile strategy directors, mobile enterprise managers and developers, IT managers and enterprise mobility experts.
Registrants will be entitled to receive the WorkLight Whitepaper on Native, Web and Hybrid Mobile Application Development for the Enterprise.
About WorkLight – Extend Your Business™
WorkLight is a leading mobile application platform that enables organizations to create, run and manage rich applications for smartphones, tablets and other environments with the highest levels of developer productivity, enterprise delivery and dynamic control. Many of the world's largest companies rely on WorkLight to provide optimal user experiences across more devices while radically reducing time to market, development cost and ongoing maintenance effort. For more, visit http://www.worklight.com.
###