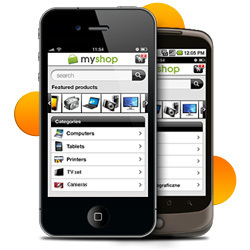 Mobile commerce is going to be $20B+ market within the next 5 years, so no online merchant can ignore this huge opportunity
(PRWEB) November 7, 2010
Few months after releasing initial version of its mobile shopping platform, today zubibu.com finally brings it to US and UK. A month ago the tool was awarded as one of the most innovative european e-commerce projects during e-nnovation conference in Poznan, Poland. The company wants to help online merchants and their customers to take advantage of modern mobile devices. Their service allows everyone to launch professional mobile commerce website within minutes. All products and their photos are imported from merchant's online shop and after embedding a piece of code into the shop, mobile visitors see a specially adapted mobile version of it.
In recent years, e-commerce has experienced a period of rapid growth. In developed countries, it is already an important alternative to retail. This rapid growth goes hand in hand with the search for effective ways to reach customers. Development forecasts for e-commerce market presented by experts from Morgan Stanley (http://www.morganstanley.com/institutional/techresearch/pdfs/MS_Internet_Trends_060710.pdf ) suggest that mobile commerce can achieve in the coming years an even higher level than e-commerce. The coming wave of mobile customers can already be seen in online shops, with more and more visitors using modern devices like the iPhone, iPad, or Android-based phones. Mobile commerce is going to be $20B+ market within the next 5 years, so no online merchant can ignore this huge opportunity. Most of the existing shops are not suited to handle such customers, and building a custom mobile shopping app or mobile optimized website is too expensive, as it costs between $5.000 and $150.000 depending on requested functionality.
At zubibu.com, the main objective while designing mobile version of online shops was the ease of use. The shop can be conveniently used with the finger touch and contains only the most necessary features, in order to save space on small screen. What is extremely important for mobile customers is how fast mobile shops work when using cellular network. zubibu does not disappoint in this regard and all shops work well on both 3G and EDGE networks.
One of the greatest features that zubibu provides is saving customer's address details directly into the phone. Address form in the basket is filled with a default address hint from the previous visit, which saves a lot of time. What's more - filling out the address is also active in other shops using zubibu, so it is enough to type the address only once, which greatly improves conversions!
Extremely important element of a successful business transaction is adjusted payment screen. Payment operators offer sophisticated payments screens, which are uncomfortable on the small screen. With this in mind, zubibu integrated specially tailored mobile payment system, which certainly will not hinder the customer's purchase.
A major advantage of this solution is that zubibu.com allows you to customize your shop to the needs of mobile customers in a revolutionary time. E-retailers do not need to pursue new customers in order to take advantage of the service. Those customers are already visiting their shops, but now with zubibu.com they do not need to leave empty-handed. From now on the customers will be satisfied with the services with minimum costs for shop owner, because zubibu.com offers low-cost monthly subscription. The zubibu team constantly works on improving mobile shops and prepares support for new mobile devices in the coming weeks.
For more information, please visit zubibu.com
# # #