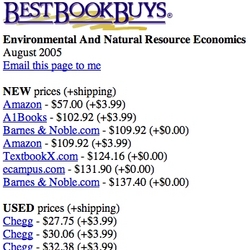 Our customers have been asking us for an easier way for them to compare the cost of their books where ever they are, even from their campus store
La Canada, CA (PRWEB) January 12, 2009
College students can now search for and compare the price of more than six million textbook and book titles instantly across thousands of online sellers and stores using their cell phones at m.bestbookbuys.com, Best Book Buys announced today. Best Book Buys (bestbookbuys.com), a leading online comparison shopping service for books and a service of Best Web Buys, new mobile web site enables students to enter in a textbook or book's 10 or 13 digit ISBN number and immediately see a breakdown of new and used textbook prices including shipping costs.
"Our customers have been asking us for an easier way for them to compare the cost of their books where ever they are, even from their campus store," said Steve Loyola, president and founder of Best Book Buys. "And since college students always have their cell phones on hand it made sense to us to build a mobile online site that could let them compare costs immediately. Also, by using the book's ISBN number, students can be assured they are getting the exact book required for each of their classes. With the price comparison on their phone, students are in a better position to know if they should make the purchase online. Because many of the online bookstores do not offer purchasing through mobile browsers, we also make it easy for students to send our price comparisons to their email address so they can make their purchases when they return to their computer."
With the economy in the deepest recession since the Great Depression, college students need ways to reduce their costs. According to the College Board's recent reports Trends in College Pricing 2007 and Trends in Student Aid 2007, costs for tuition and fees at four year public colleges are up 51 percent from 5 years ago. Students spend on average about $900 on textbooks. According to Loyola, College students can save up to 76% on their textbooks by purchasing their books online.
A search for three college textbooks titled "Marketing Management" (ISBN 0130336297), "Environmental and Natural Resource Economics" (ISBN 0321305043), and "Management Information Systems: Managing the Digital Firm" (ISBN 0131538411) illustrate the savings that Best Book Buys offers. These three books have a combined list price of $427.13. A search today at Best Book Buys finds these same books selling for $71.50 new and $22.48 for used. This amounts to a savings of 83% (new) and 95% (used) off the list price.
About Best Web Buys
Best Web Buys™ first made a name for itself eleven years ago with the launch of one of the first online price comparison sites- Best Book Buys®. Best Book Buys has been helping college students from more than 1500 colleges across the nation find the best prices for their new and used textbooks since 1997. Best Web Buys' five product specific sites -- Best Book Buys, Best Music Buys, Best Video Buys, Best Bike Buys and Best Electronic Buys -- compare prices, shipping and availability of more than six million titles and items at hundreds of online stores and thousands of Alibris, eBay, half.com and Amazon marketplace sellers. Steve Loyola, a former Jet Propulsion Laboratory computer scientist, founded the company.
Editors Note: Best Web Buys, Best Book Buys, Best Bike Buys, Best Electronic Buys, Best Music Buys and Best Video Buys are trademarks of Best Web Buys. All other trade or brand names mentioned herein are the property of their respective owners.
# # #