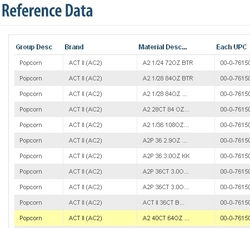 I'm a field sales manager, and I've been able to configure a suite of mobile apps for our business that reference 15,000 customers and a product catalog of over 1,000 products.
Herndon, VA (PRWEB) March 30, 2010
The Canvas mobile application platform at http://www.gocanvas.com now supports mobile databases for mobile business apps. Canvas subscribers can now add lists of items to their Canvas mobile apps in order to further enable mobile commerce, route accounting, sales, service, inventory and health care applications.
Configurable Mobile Databases
Businesses and mobile professionals can now find Canvas mobile apps for smartphones, barcode scanners and netbooks that contain mobile databases of reference information. Mobile apps running on the Canvas cloud computing platform can be configured to look up customers, products, sales orders, work orders, invoices, patient records or other reference data useful for conducting business transactions outside of the office. Users of Canvas mobile apps can search or browse these databases by using drop-down controls or scanning barcodes.
Any Canvas mobile app can be customized with database unique to a subscriber's business, with users having several paths to get their information into Canvas. A business manager or mobile professional can upload an Excel or CSV file to the Canvas web site, automatically creating a custom database that can used in a mobile app. Using this feature does not require specialized database administrators or specialized mobile software developers. Canvas also supports real-time database integration with web services for enterprises with more advanced requirements and capabilities.
"I'm a field sales manager, and I've been able to configure a suite of mobile apps for our business that reference 15,000 customers and a product catalog of over 1,000 products." said Phil McCarrell, Director of Retail Services at S&E Sales Associates. "We're using these apps to merchandise product, process sales orders and replenish inventory for our customers. We use the Canvas service because it doesn't require specialized software developers. We can configure our own apps."
Mobile Commerce and Robust Mobile Apps for the Enterprise
With this service upgrade, Canvas now goes beyond mobile data collection to enable powerful mobile commerce applications. The service capabilities also address the needs of larger businesses and enterprise customers. Enterprise customers can now use Canvas for robust field mobility solutions in route accounting, field service, proof of delivery and custom mobile process automation.
Business process management is enabled with another new feature. App publishers can now create custom workflow with conditions for when to display certain mobile screens. For example, the mobile user may only see a series of survey screens if he is serving a new customer. If he is working with an existing customer, he may instead see the customer's order history. These new features work in conjunction with any application built using the Canvas web site, along with any application found in the Canvas app store.
"I have worked with a number of mobile middleware and mobile application technologies over the last decade," said Rob Frame, Solution Sales Executive at Data Capture Solutions. "I first started working with Canvas because it was so easy to configure custom solutions for my customers. Now I'm able to use Canvas for more complex apps that engineers needed weeks or months to build with other technologies. I've used Canvas to configure a mobile commerce app for a consumer products company, a field service app for a manufacturing company, and an inspection app for a safety company."
About Canvas
Canvas makes it easy to publish data collection apps on wireless smartphones and other mobile devices such as laptops, tablets, bar code scanning devices and netbooks. Canvas reduces paper consumption, redundant data entry and excess process for businesses and mobile professionals. The Canvas software service enables mobile professionals to collect information using their mobile devices, analyze that data on the Canvas web site, and share information across their business community. Canvas also offers the first mobile app store of its kind allowing business users to find mobile applications that work on a wide variety of mobile devices, with every application being customizable by Canvas users. Founded in October, 2008, Canvas Solutions, Inc is headquartered in Herndon, VA.
###