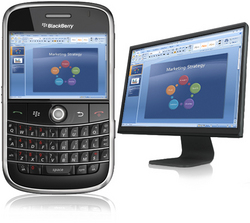 Dallas, TX (PRWEB) April 15, 2009
Travel often? It's not surprising that PocketMeeting has been received with such fanfare - we're all on the go. Warb announced on April 12th, 2009 a new breed of online meeting software, which includes the ability to view a presentation from your BlackBerry Bold. Whether you're in sales, support, or operations, there are always times when you need to be in two places at once. Now with PocketMeeting you can share your computer screen with anyone.
"We quickly dispelled the belief that this is a crowded space. Within our first two days of release, we've beat expectations for an entire month of sales," Isaac Squires, Director, said. "There is still a need for simple software that works. We've executed on that concept, with a bit of flavor in the mobile department."
Currently PocketMeeting has no plans to add common meeting features such as audio conferencing or remote control. However, they happily refer customers to their technology partner, GeniusRoom, who offers a full virtual office product. "Many of our customers already have some degree of conferencing support built into their mobile phones, however if they're looking for more, then GeniusRoom is an ideal upgrade for those familiar with PocketMeeting."
Want to give it a try? PocketMeeting offers a trial screen sharing session with a request from their service department through info(at)pocketmeeting.com. The service is priced at $5 per use, which will last for 24 hours.
What does WebEx charge for an hour of screen sharing? Take a look.
About Warb Inc.
Warb is an award winning web design and technology studio, based in Dallas, TX.
###