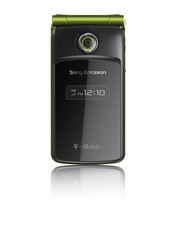 The Sony Ericsson TM506 is a compelling, feature-rich phone with a vibrant display that our customers will enjoy using to connect with the important people in their lives.
RESEARCH TRIANGLE PARK, N.C. (PRWEB) August 21, 2008
"The TM506 not only signifies Sony Ericsson's expanding U.S. portfolio of handsets, but more importantly, that we have forged a strong and promising relationship with T-Mobile," said Najmi Jarwala, president of Sony Ericsson North America. "With the launch of the TM506 with T-Mobile, Sony Ericsson is positioned to offer more choice of mobile handsets for a broader range of U.S. consumer segments at a variety of price points."
"T-Mobile continues its 3G network deployment across the country, and we're pleased to leverage Sony Ericsson's 3G handset experience to help deliver the benefits of our next-generation network to our customers," said Cole Brodman, chief technology and innovation officer, T-Mobile USA. "The Sony Ericsson TM506 is a compelling, feature-rich phone with a vibrant display that our customers will enjoy using to connect with the important people in their lives."
TM506 – Stay Connected in Style
Style and elegance Compact power Connect without limits Style and elegance
With an all around eye catching design, the TM506 was created for on-the-go consumers who want to express personal style with a feature-rich handset fully loaded for a multimedia experience. Users can reflect their personal fashion sense, choosing between Chrome with Amber or Emerald highlights with a sleek ebony gloss.
Compact power
The TM506 proves that good things come in small packages. Its compact design fits into any pocket, purse or briefcase for consumers on the move. An outer display allows users to glance at the caller ID without having to open the phone, and the compact handset is packed with 3G download speeds for faster access (in select markets) to media and content viewing anytime, anywhere. Users can store their favorite tracks and share music with their friends using the removable Memory Stick Micro™ (M2™). Plus, it's easy to keep up with the latest news and weather information with customizable Web feeds.
Connect without limits
Users can capture and share special moments as photos or video clips with a 2.0 megapixel camera with My Album, slide show and video blogging capability. Stereo Bluetooth® connectivity allows hands-free wireless calls, and with Bluetooth® stereo headphones, users can hear their favorite music the way it was meant to be heard.
A built-in GPS navigation feature in the TM506 along with the TeleNav® application from T-Mobile allows users to always know their location. T-Mobile consumers have numerous messaging and communication options such as sending pictures, videos, IM notes and e-mail from their TM506 to their faves from the homescreen with T-Mobile myFaves®.
The TM506 will be available in early September at select T-Mobile retail stores and online at http://www.t-mobile.com.
TM506 Phone At-A-Glance
Weight: 3.4 ounces, including battery (approx.) Size: 3.7 x 1.9 x 0.69 inches (approx.) Talk Time: Up to 9.5 hours GSM; up to 3.5 hours UMTS (approx.) Standby Time: Up to 250 hours GSM, up to 250 hours UMTS (approx.) 2.0 Megapixel Camera Media Center aGPS Built-in TeleNav® Navigator RSS Feeds myFaves-enabled Audio Postcard Quicksend Mobile Backup (T-Mobile Address Book) Bluetooth® 2.0 / A2DP / Stereo streaming Tri-Band GSM (850/1800/1900) Dual-Band UMTS (1700/2100 & 2100) GSM/GRPS/EDGE/UMTS/HSDPA Legal Information
1) Talk and standby times are affected by network settings, type of SIM card, connected accessories and various activities e.g. games.
2) Web feeds, text and e-mail require an appropriate T-Mobile data plan.
The liquid identity logo is registered trademark of Sony Ericsson Mobile Communications AB. Sony, Memory Stick Micro and M2 are trademarks or registered trademarks of Sony Corporation. Ericsson is the trademark or registered trademark of Telefonaktiebolaget LM Ericsson.
Bluetooth is a trademark or registered trademark of Bluetooth SIG Inc.
Other product and company names mentioned herein may be the trademarks of their respective owners. Sony Ericsson Mobile Communications AB, 2008.
© Sony Ericsson Mobile Communications AB, 2008.
Sony Ericsson is a top global industry player with sales of over 100 million phones in 2007. Diversity is one of the core strengths of the company, with operations in over 80 countries including manufacturing in China and R&D sites in China, Europe, India, Japan and North America. Sony Ericsson was established as a 50:50 joint venture by Sony and Ericsson in October 2001, with global corporate functions located in London. For more information about Sony Ericsson, please visit http://www.sonyericsson.com
MULTIMEDIA GALLERY http://www.businesswire.com/cgi-bin/mmg.cgi?eid=5760640