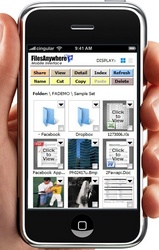 DALLAS (PRWEB) October 10, 2007
Standard features available on the FilesAnywhere mobile site include: an online document and image viewer, folder management, cut/copy/paste functions, upload/download, a thumbnail view, detail view and the ability to instantly send files or entire folders to anyone via an email link. On the iPhone, popular file types open directly in the Safari(TM) application.
The upgraded mobile site complements FilesAnywhere's storage and backup services, so folders used and backed up from any Mac(R) or Windows(R)-based computer are easy to access, edit and transfer, all while on the go with a web-enabled mobile device. The mobile site also can be used from any computer for those who prefer the streamlined web interface.
FilesAnywhere mobile web site: https://m.filesanywhere.com
FilesAnywhere home page: http://www.filesanywhere.com
About FilesAnywhere.com
In addition to mobile access features, FilesAnywhere provides web-based backup, file storage, Workgroup collaboration, remote file editing, and many other online file management capabilities for consumers and businesses. The company is based in Dallas, Texas and is owned in part by Internet entrepreneur Mark Cuban.
(C)2007 Officeware Corporation. FilesAnywhere is a trademark of Officeware Corporation. BlackBerry is a registered trademark of Research in Motion Limited. Windows is a registered trademark of Microsoft Corporation in the United States and other countries. Palm is a registered trademark of Palm, Inc. Mac is a trademark of Apple Inc., registered in the U.S. and other countries. iPhone and Safari are trademarks of Apple, Inc.