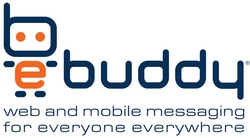 eBuddy for iPhone has already achieved significant viral growth without any marketing, and we're proud that eBuddy for iPhone is the first, free multi-network mobile instant messenger application with push notification
San Francisco, CA (PRWEB) July 8, 2009
eBuddy, the world's leading independent web and mobile instant messaging (IM) service, today announced the global launch of eBuddy for iPhone, the first, free multi-network mobile instant messenger application with push notification, available now via iTunes.
eBuddy for iPhone is a free mobile instant messaging application that enables iPhone and iPod Touch owners with AIM, Facebook Chat, ICQ, Gtalk, Yahoo! or MSN Windows Live Messenger to have multiple chats in one, aggregated interface, and provides a high quality, fast and reliable 'on-the-go' chat experience along with smart features including:

Easily switch between chats by swiping your screen
Shake your iPhone or iPod Touch to send a buzzer
Get new message alerts and typing alerts in the chat screen
Push notifications for incoming messages when you exit the app (initially for 30 minutes)
According to statistics from Distimo, the app store analytics company, the eBuddy for iPhone application is currently ranked as follows in the free social networking application category: #1 in 21 countries, within the top 5 in 31 countries, and within the top 10 in 37 countries, respectively.
"eBuddy for iPhone has already achieved significant viral growth without any marketing, and we're proud that eBuddy for iPhone is the first, free multi-network mobile instant messenger application with push notification," comments Jan-Joost "JJ" Rueb, CEO and co-founder of eBuddy. "We've had over 2 million unique iPhone and iPod Touch users on the eBuddy Lite Messenger platform, and we're pleased to see them convert over to the eBuddy for iPhone application along with our many new users."
About iPhone
More than 22 million iPhones have been sold since the device launched in June 2007, and iPhone applications have been downloaded over 1 billion times since the launch of the App Store on Apple's iTunes in July 2008. iTunes currently features over 55,000 mobile apps of which 43,000 are paid, and iPhone owners download an average of 37 applications per phone.
About eBuddy
eBuddy created the world's first independent web browser-based IM service in 2003 and extended the service to mobile in June 2007. eBuddy is available in over 30 languages and is currently processing over 6 billion messages per month. eBuddy's patent-pending technology enables more than 20 million unique monthly visitors with AIM, Facebook, Gtalk, ICQ, MySpace, MSN Windows Live Messenger and Yahoo! IM accounts to chat free of charge in one interface without having to download or install any application. eBuddy offers two versions of its mobile IM client, the popular J2ME version, eBuddy Mobile Messenger, and the mobile Internet version, eBuddy Lite Messenger, and is one of the world's fastest growing mobile IM services with nearly 6 million unique monthly visitors. eBuddy is the proud recipient of the 2008 Crunchies Award for Best International Company, and is a finalist for Best Mobile Application EMEA at the 2009 TechCrunch Europas Awards. Based in Amsterdam with additional offices in London and San Francisco, eBuddy is a privately held company backed by Prime Technology Ventures and Lowland Capital Partners. Learn more at http://www.ebuddy.com.
###