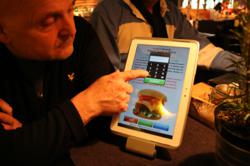 Your brands tablet PC will be used by literally tens of millions of paying customers each and every month in a country like the United Kingdom alone.
London (PRWEB) January 14, 2013
In Store Rewards the new software release by Mobile Sales Systems (UK) is a fully automated Text Message based Customer Loyalty Program that links the use of mobile phones and tablets in order to grow local businesses enabling business owners to effortlessly build their SMS contact list on the fly whilst their customers go about their business as usual.
Business owners will be able to instantly reward their customers for their visit to their business, or for any purchases that they have made on the day. And come the dreaded "slow business times" business owners can send SMS / Text messages to all their customers in just seconds to "call" them back to the business for any offer, sale or event that they run for them.
"If you have retail business, why can't the tablets replace the regular menus or brochures? Why not have an in-house sale that's only available on your tablet (yes, not even on your website)? How about replacing the whole POS for a tablet with POS app. Let clients use and have fun with them." by Devesh Dwivedi | CEO, Breaking The 9 To 5 Jail
Much more than a "Lifestyle" only device ...tablet PCs actually grow local businesses!
In Store Rewards puts the business growth in tablets that can be used in any type of business that primarily relies on walk-in-customers. With In Store Rewards the use of tablet PCs in business receives a money making element. So now it's not only cool and fun to use a tablet PC - now it is an intrinsic part of a business strategy to use a tablet that in some industries will make it an absolute necessity to tie the use of tablets into the sales process.
"There are more than 5,000 branded coffee shops in town centres, retail parks, railway stations, airports and even drive-thrus along motorways across the UK, and last year they served up £2bn of coffee – double the sales recorded in 2005." (by Ruppert Neat, The Guardian).
In Store Rewards is actively negotiating with primary business chains within the food & beverage industry. In the UK alone there are fiercely competing at least half a dozen large brands of coffee outlets all competing shops with each other - think Starbucks, Caffè Uno, Café Rouge, Caffè Nero, Costas Caffè Ritazza etc.
Branded tablet PC will be used by literally tens of millions of paying customers each and every month in a country like the United Kingdom alone. And every single one of those customers that will be using a specific tablet brand are paying customers - people that have their wallets still in their hands...
A city like London were millions of people spend money in cash or by card several times a day using a branded tablet PC every time they are at a cashiers desk. A city like London could easily become a synonym for any brand name simply because millions of paying customers are checking out while using a tablet of their brand. London is Samsung or London is Amazon or London is iPad or London is Nexus or London is Windows Surface or...
Of course this works for any major City or indeed any small community in any region or in any country in the world.
Tried and tested to the limit
In Store Rewards was on tour in Germany, November 2012. German business owners and customers are the most critical and demanding. Everything that has not been tested by their famous "TÜV" or gone through the scrutiny of "Stiftung Warentest" is at first somewhat suspect and mistrusted...
Restaurants, coffee houses, bars and hotel bars were chosen at random and the owners and managers on duty allowed their customers to have a serious test drive of In Store Rewards.
The feedback and the reactions from business owners and random picked customers was overall very positive indeed.
The critical Germans gave In Store Rewards their seal of approval and the system is set to conquer the world!
Tablet PC producing or distributing entities are invited to adopt a marketing strategy that includes the growth of local businesses in 2013 and beyond.