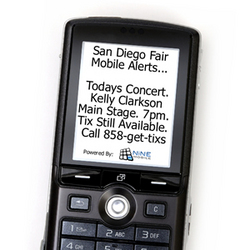 Text the word SDFAIR to a 5 digit number to join our mobile mailing list and receive special promotions on your cell phone.
San Diego, CA (PRWEB) June 13, 2009
Nine Multimedia is the media technology company that powers the San Diego County Fair with mobile marketing tools through an online service at http://www.NineMobile.com.
The Fair has enabled their advertising with a simple call to action on billboards, radio, TV, and live events that says. "Text the word SDFAIR to a 5 digit number to join our mobile mailing list and receive special promotions on your cell phone."
Customers that Opt-in to receive mobile alerts on their cell phones will get timely offers about the Fair specials, concert events, directions, and daily schedules. The San Diego County Fair is the 5th largest Fair in the U.S. and it is the largest and oldest annual event in San Diego with over 1.2 Million visitors.
From June 12th through July 5th, 2009 the San Diego Fair can engage the audience on-the-go with direct mobile broadcasts. The Fair can deliver 1000's of mobile invitations to increase public awareness, and remind the community to visit the fairgrounds and enjoy the blockbuster lineup of entertainment throughout the summer. This year fairgoers will have the chance to catch many local and national musicians performing during the San Diego County Fair's Summer Concert Series. Headliners include American Idol stars Kelly Clarkson, David Cook, and David Archuleta, on the Heineken Grandstand Stage. For additional information on the Fair please visit http://www.sdfair.com/fair.
Mobile Marketing represents a cost effective business opportunity for events that want to build a dialogue with their customers. The San Diego County Fair is an innovator in their usage of Mobile Messaging for their industry and entertainment brand. Tom Marchesello, CEO, of Nine Multimedia says "It is a great honor to work with one of the most recognized events in my hometown. The San Diego County Fair produces an excellent show and I'm impressed with how their management team has adopted new technology to stay relevant with their audience. They are showing true leadership in their use of the latest marketing tools like mobile to offer customers real value and convenience. I am confident that our mobile marketing solution gives the SD Fair a competitive edge. Mobile is highly effective at audience engagement and proven to drive growth during an event and for future events."
Nine Multimedia is a technology company that develops leading edge media tools for mobile marketing and social video distribution. Nine builds and operates the core tools for mobile and video broadcasting, iPhone Apps, mobile websites, and bulk text messaging. The company is 5 years old and has key clients in Retail, Entertainment, and Advertising that successfully run regional and national campaigns on the NineMobile.com platform.
For information on Nine Mobile or the news that is the subject of this release, contact Tom Marchesello or visit http://www.ninemobile.com
Contact:
Tom Marchesello, CEO
Nine Multimedia Inc.
858-240-2248
http://www.ninemobile.com
###