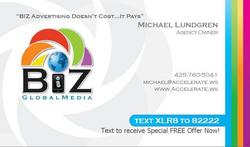 Mobile Marketing - "The Most Powerful Advertising Medium Ever Invented" The New York Times
Snohomish, WA (PRWEB) May 28, 2010
Michael Lundgren R.T. C.A.C. was attracted to the "Mobile Marketing" industry because he wanted to be a part of an exciting opportunity (700 Cell Phone Carriers in 220 Countries) and be on the ground floor of a unique service that sells itself." Plus, he says, "Our revolutionary "Opt-In " SMS (Text Message) Marketing System defines how "Advertising" is going to be done for years to come!" (Text "XLR8" to 82222)
Jim Ferras, Biz Global Media, CEO, has established a relationship with over 700 Telcom providers, world-wide to propel the BIZ International Expansion. Imagine the power to be able to deliver 100's or 1000's of coupons or special discounts to a "Customer List" (via text) with: 1) Instant Deliverability and 2) Instant Readability (with a 95% + read rate - normally within seconds) unheard of in the normal advertising arena.
The final decision factor for Mr. Lundgren in joining Biz Global Media was knowing he would be part of a large and supportive team of "Ad Agency" owners who offer a complete line of professionally designed marketing tools that get proven - duplicatable - results. (Text "XLR8" to 82222)
Biz Global Media - Another attractive item is the company's long time history in the industry. Using our multi-million dollar Data Center, our "Mobile Marketing" software allows any business to instantly stay in touch (with their customers) and communicate globally "at the speed of text".
Ad Agency Growth: With the growth of our "Ad Agency" network, Team Members (Owners) are given the much needed "Time-Freedom" to set their own hours and totally control their income." As Mr. Lundgren points out, "That is the primary reason I joined Biz Global Media. Anyone who is just starting their own online business can quickly see the benefits (and results) of getting paid daily and having a professional marketing team backing you." (It's like having all the A+ students in school taking all of your tests for you!) Text "XLR8" to 82222
Michael Lundgren is an experienced "Computer Applications Coordinator" and "Radiologic Technologist" who has worked in the computer industry since 1985. Leading the way as a Electrical Systems Installer for The Boeing Co. in 1997 (777 and 747 Program) and more recently in support of the "Clinical Applications" assisting I.H.S.gov Nationwide.
###