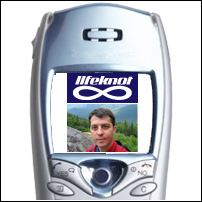 You can truly sift through and find people who enjoy the same things without any pressure to date
Cambridge, MA (PRWEB) August 15, 2006
lifeknot.com, a novel site that has features in common with social networking and online dating web sites, has launched a mobile version of its web site. lifeknot's mobile site enables members to use their cell phones as a digital ice-breaking device -- as well as to search and view member profiles and pictures from their cell phones.
Enter the usernames of two lifeknot members into a cell phone to see a list of shared activity interests, bands, books, movies and tv shows. Scrolling down through a list of shared interests gives you an immediate indication of your compatibility and some great talking points that will help break the ice. What makes this comparison so interesting is lifeknot's extensive member-suggested activity listings. From the usual (hiking, biking, camping, and cooking) to the unique (beekeeping, home brewing, longboarding, and belly dancing) members are certain to share some of the 1,100 and growing activities listed.
lifeknot maintains the personal intimacy found at online dating sites and incorporates aspects of social networking by connecting people through shared activity interests and not limiting their service to singles only. The result is an online community where the focus is simply making new friends that share interests and passions in any activity imaginable. "You can truly sift through and find people who enjoy the same things without any pressure to date," states Mary Robinson of San Diego, California.
But if you're looking for someone to date, you can find that too. Members may post personal profiles in addition to activity profiles. With lifeknot now accessible from the 182 million cell phones in the U.S., members may find their perfect activity partner, or life partner, right from their cell phone.
About lifeknot.com
lifeknot is an activity partnering website not just for singles only; those already in relationships are welcome. The benefit for singles using a service that includes those in relationships is that developing friendships with users who share similar interests creates a larger network of people through which they can meet new loves. The advantage for those in relationships is that they have a large group of people from which they can choose activity partners for pastimes their significant others might not enjoy.
Membership is free, including the ability to e-mail other users. For more information, please visit http://www.lifeknot.com.
Contact
Matt Muro | cell phone: 617.388.1511 | website: http://www.lifeknot.com
# # #