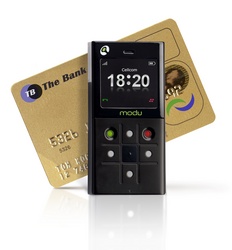 modu has developed a truly disruptive business model that is exciting for everyone in the mobile phone industry, and is driving change and progress with its unique and innovative ecosystem
Ferndale, WA (PRWEB) February 6, 2008
KFAR-SABA, Israel (Business Wire EON) February 6, 2008 -- Leading mobile network operators (MNOs) with a total of tens of millions of subscribers have already committed to modu, signing strategic partnerships that will see the first modu products available in the fourth quarter of 2008. The MNOs are Telecom Italia's mobile division TIM, BeeLine (VimpelCom) of Russia and Cellcom in Israel.
modu ecosystem partners also include mainstream consumer electronics manufacturers who have signed up to develop modu mates such as MP4 players, digital photo frames, cameras and DECT phones , enabling best of breed functionality coupled with modu's personal communication experience. One of the first such partners is car multimedia and navigation leader Blaupunkt.
Lifestyle, entertainment and fashion brands - including the world's largest music company Universal Music Group - are also part of the modu ecosystem, partnering with modu to design stylish and customized modu jackets.
modu, which was set up in 2007 by leading technology innovator and entrepreneur Dov Moran, the inventor of the USB Flash Drive and other ground breaking personal storage solutions, has developed a mobile phone that promises to transform the way people buy, use and enjoy personal communication.
Dov Moran, modu's CEO and founder, said: "The mobile phone industry is ready for a revamp.
"There are hundreds of handset models on the market: the trouble is that as a consumer you can only have one at a time and you are usually tied to a long and expensive contract. modu is challenging that with a solution that offers freedom, boundless possibilities and the opportunity to change your phone without it costing a fortune."
For MNOs, the benefits of partnering with modu are numerous: modu's business model gives them an additional opportunity to engage in a positive dialogue with their subscribers by offering the choice to affordably change their phone a few times a year; MNOs can also create and build new communities among their subscriber base, leading to increased usage, additional handsets, greater loyalty and reduced churn.
Dov Moran added: "modu is all about creating partnerships and opportunities and making new connections: for consumers, for operators, for big brands seeking a meaningful profile in the mobile market and for established consumer electronics businesses looking to realize the full potential of personal communication."
modu is already attracting widespread support from leading players in the mobile and consumer electronics markets.
SanDisk
Eli Harari, CEO and Chairman of SanDisk Corporation, the leading flash storage card manufacturer, said: "modu is a disruptive concept in the well established mobile market. The modu proposition is unique and compelling to consumers, mobile network operators and consumer electronics companies alike. We are happy to participate in this exciting journey. "
Telecom Italia
Paolo Paganucci, VP Scouting & Benchmarking of Telecom Italia, adds: "The industry abounds with success stories in which a specific application (for example e-mail, GPS navigation, music on the move, etc.) is identified with the vertical device. On the other hand, operators' and customers' dreams of the "Swiss army knife" handset is currently a letdown from the perspective of the customer experience especially on innovative services.
"The collaboration with modu goes in the direction of overcoming this dichotomy, thanks to a new paradigm which gives the possibility to change the customer experience of the service without changing the device. The customer will be able to choose the preferred ergonomics and functionality that best suits his needs in any particular moment and context."
Texas Instruments
"modu has developed a truly disruptive business model that is exciting for everyone in the mobile phone industry, and is driving change and progress with its unique and innovative ecosystem," said Remi El-Ouazzane, Vice President, Cellular and Connectivity System Solutions, Wireless Terminals Business Unit, Texas Instruments. "TI is committed to helping modu succeed and is excited to help them deliver a unique offering to the marketplace."
Universal Music Group
Rob Wells, Senior Vice President, Digital, Universal Music Group International, said: "What modu have done is incredible. Their revolutionary platform has opened up mobile phones to new music products and services that simply didn't exist before modu came along. UMG takes the mobile channel seriously, and our strategic partnership with modu reflects the potential we see in this dynamic and exciting market."
VimpelCom (Russia)
Kent McNeley, Vice President and Chief Marketing Officer at VimpelCom, said: "The modu proposition is just the boost the mobile industry has needed for some time. It is both unique and compelling and is sure to resonate with our millions of subscribers.
"VimpelCom is 100% behind the modu mobile concept and the agreement means we can work closely with the modu team to shape and exploit this spectacular innovation for the benefit of both businesses, as well as consumers across Russia and the CIS territories."
NOTES TO EDITORS
About modu
modu was established by Dov Moran and several of his colleagues from msystems, a company he founded and sold to SanDisk in 2006 for $1.6B. modu's vision is to bring a fundamental change to the dynamics of the mobile phone industry. The company is dedicated to developing products, technologies, a wide ecosystem and business relationships that will help realize that ambition. modu will have its official launch at the Mobile World Congress, being held in Barcelona, Spain in February 2008.
modu gives users the freedom to choose a new phone as often as they like, meeting their changing needs, preferences and style- easily and affordably. At the heart of the modu ecosystem is modu - a tiny and sophisticated mobile phone. modu can be slipped into a wide variety of modu jackets - stylish phone enclosures that enable users to create a new look or design and provide added functionality. modu can also slip into modu mates- consumer electronic devices that are modu-enabled - allowing users to create an entirely new communication experience.
Mobile World Congress
modu will be exhibiting at the Mobile World Congress in Barcelona from Monday, 11th February until Thursday, 14th February:
-- Hospitality Suite: Z6.2
-- Booth: 7E46
-- Fira de Barcelona
Avenue de la Reina Maria Christina
Barcelona, Spain 08004