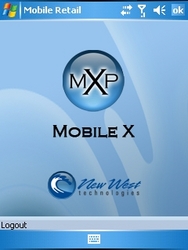 Our new Mobile X Platform will enhance Dynamics POS 2009 beyond the walls out into the new world of retail
Portland, OR (PRWEB) July 15, 2009
New West Technologies, Inc. has announced its new Windows Mobile Extension for Microsoft Dynamics POS 2009.
"Our new Mobile X Platform will enhance Dynamics POS 2009 beyond the walls out into the new world of retail," said Dan King, Point of Sale Systems Consultant.
The new MXP is port-able and ready to take Dynamics POS 2009 retail to the next level with the ability to customize mobile according to POS experience and behavior. This easy, efficient and cost effective solution starts simple for the entrepreneur and scales, able to grow with the business need. It is opening doors to the future of retail by removing the barriers between retailer and the customer experience, taking the POS to the customer wherever they may be.
Mobile X - targets industry needs and was designed to be customizable according to your retail specifics and reporting needs.

Mobile X Individual- The Mobile Individual Platform has been designed with the small startup and single entrepreneur in mind.
Mobile X Business- The Mobile Business Platform includes many features for the specialty retail and event company.
Mobile X Enterprise- The Mobile Enterprise Platform is designed for large companies in need of many lanes and reporting capabilities.
About New West:
Founded in 1992 in Portland, Oregon, New West Technologies is a leading integrator of Mobile Retail POS software solutions and Microsoft Dynamics Retail products. As a full-service technology provider with extensive experience in small business computer networking and retail software development and installation, we deliver easy-to-use, practical solutions that dramatically improve your profitability and workflow management. http://www.newestech.com
###